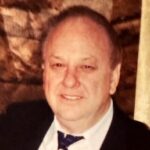 John Joseph Katsock, age 83 of Yardley, PA passed away suddenly on September 19, 2023 at Jefferson Bucks Hospital in Langhorne.  Born in Plains, PA, John was a resident of Yardley for over 60 years.  He was also a part-time resident of Sailfish Point in Stuart, FL.  Mr. Katsock was a proud Army Veteran and was a graduate of Kings College, where he was a standout football player.
Prior to his retirement, he was a self-employed CPA, owning J J Katstock & CO.  A parishioner of St. John the Evangelist Roman Catholic Church, John also served as Township Auditor for Lower Makefield Township and was a board member at the YMCA Camp Mason.  Additionally, Mr. Katsock was a member of Knowles – Doyle American Legion Post #317 in Yardley and the American Business Club.  An avid golfer, John belonged to the Yardley Country Club, loved spending his summers at his home in Ocean City, NJ, enjoyed playing cards with his friends, shopping for just about anything and donating to many of his favorite charities.  He was also a huge car enthusiast, fan of the Philadelphia Eagles and loved to travel.
Son of the late Michael and Alice (Hatkow) Katsock, and brother of the late Julie Elinchik, Nancy Radzville and Allen Katsock, he is survived by his loving wife of 60 years Vivian M. (Cardoni) Katsock, a son and daughter-in-law John Joseph, Jr. and Marissa Katsock of Miami, FL, two daughters Janelle Adams of Yardley and Jocelyn Katsock of Washington, D.C., a brother and sister-in-law Richard and Connie Katsock of Long Island, NY, a sister and brother-in-law Alice and John Adamski of Mountaintop, PA and seven grandchildren, Katlyn, Kristin and Rachel Katsock, Robert and Matthew Adams, Michael and Gianna Katsock and many nieces and nephews.
Relatives and friends are invited to celebrate his Funeral Mass at 10:30 AM on Thursday, September 28, 2023 at St. John the Evangelist Roman Catholic Church, 752 Big Oak Rd., Morrisville, PA  19067.  His interment will follow in Our Lady of Sorrows Cemetery on Village Road in Langhorne.
Friends may call on Sept. 28th from 9:30 – 10:30 AM at the church.
In lieu of flowers, the family requests memorial contributions, in Mr. Katsock's name, be made to the Pennsbury Scholarship Foundation, https://www.pennsburysd.org/Page/425.
Arrangements have been entrusted to the care of the J. Allen Hooper Funeral Chapel, Morrisville, PA.
​​�​��​