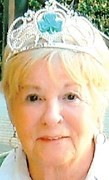 Elinor A. Fitz-Maurice, of Yardley, Pa., passed away peacefully on Monday, May 18, 2020 at St. Mary Medical Center, Langhorne, Pa. She was 87.
Born in Trenton, N.J., Elinor lived in Yardley for over 60 years. Prior to her retirement, she was employed as an executive secretary with the Governor's office for the State of New Jersey. Mrs. Fitz-Maurice enjoyed going to her home in Florida, solving crossword puzzles, dancing and fishing.
Daughter of the late Joseph and Theresa (Kilkenny) Hurst, and wife of the late James Fitz-Maurice, she is survived by her husband Robert J. Somogyi, two sons and daughters-in-law James and Lizbeth Fitz-Maurice of Morrisville and Jeff and Karen Fitz-Maurice of Newtown, two brothers Joseph Hurst of Levittown and Willaim Hurst of Brooklyn, N.Y., a sister Mary Lepore of Levittown, nine grandchildren, eleven great-grandchildren and several nieces and nephews.
Her services, and interment in St. Mary Cemetery, Trenton, will be held privately at the convenience of the family.
In lieu of flowers, memorial contributions, in her name, may be made to the American Heart Association
, www.heart.org
.