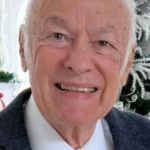 Cyrus J. Cattani, Jr., 79 of Yardley, PA, entered into his eternal rest with the Lord on Wednesday, July 19, 2023 at Penn Presbyterian Medical Center in Philadelphia, Pa. Cyrus was born and raised in Trenton, NJ. He resided in Pennsylvania for the last 50 years with his wife and family. He was a hardworker who owned and operated his own business, Central Alarms which then became Central Security Systems in Yardley, Pa. Cyrus had a patent for his invention of a tamper switch for alarm systems. He did a lot of work over the years at Jasna Polana working for the Johnson & Johnson family. He served in the NJ National Guard.
Cyrus enjoyed eating out and lunches and dinners were customarily followed by his favorite dessert of ice cream. He loved nothing more than time spent with his beloved family, especially his granddaughter Taylor. Cyrus also enjoyed time with his daughter's dog, Leo. He was a kind man who never had a bad thing to say about anybody. He loved all of his cousins and nephews.
Son of the late Cyrus J. Cattani Sr. and Ann (Farge) Cattani; brother of the late Joseph Cattani; brother-in-law of the late Robert J. Miller and John Carlton Miller; Cyrus is survived by his loving wife of 58 years, Dorris Lynn (Miller) Cattani; his two daughters, Tina and husband Dan Caparo, and Tricia Cattani and her partner Steve Buzby; a granddaughter, Taylor Caparo; two sisters-in-law, Carol Cattani and Maryann Miller; three nephews, Joey, Carl, and John Cattani; as well as many other family and friends.
A Mass of Christian Burial will be celebrated Thursday, July 27, 2023 at 10:30 AM at St. John the Evangelist Church, 752 Big Oak Rd., #4728 Morrisville, PA. Family and friends are invited to pay their respects on Wednesday, July 26, 2023 from 5:00 PM to 8:00 PM and Thursday morning from 8:00 AM to 9:00 AM at the Hamilton Brenna-Cellini Funeral Home, 2365 Whitehorse-Mercerville Rd., Hamilton, NJ 08619. Please visit Cyrus' tribute page at www.brennacellinifuneralhomes.com
Published by The Times, Trenton, from Jul. 24 to Jul. 25, 2023.