Elizabeth Kubacki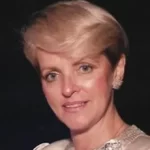 Elizabeth A Kubacki (Bette Cullen) passed away peacefully on Monday, September 19, 2022 at her residence in Yardley, PA. She was 87 years old. Elizabeth was born in Philadelphia to Richard and Catherine Cullen, she grew up in the Port Richmond Section of Philadelphia and graduated from Nativity BVM Commercial School.
Predeceased by her beloved husband Dr. Thomas R Kubacki.
Loving mother of Kevin (Julia) Kubacki, Michelle (William Wiggins) Sibona, and Mark (Sharon Sullivan) Kubacki. Grandmother of Daniel (Ricky)Kubacki, Thomas (Evie) Kubacki, Kevin (Victoria) Kubacki, Matthew (Jessica) Sibona, and Christopher Sibona, and great-grandmother of Scarlett and Felix Kubacki.
Predeceased by siblings: Mary Costello, Thomas Cullen, Richard Cullen, Anne Taylor, Reggie Cullen, Kathleen Solomon and Maureen DiVirgilio.
Surviving are numerous nieces and nephews.
Elizabeth enjoyed boating on the Delaware River and restoring and showing antique cars with her husband. She loved the company of family and friends. Compassion for all and malice towards none was how she lived her beautiful life.
A Viewing will be held Friday, September 30, 2022, from 9:00AM to 10:15AM at St. John the Evangelist Church, 752 Big Oak Road, Morrisville, PA. Her Funeral Mass will follow at 10:30AM.
Burial will take place at the St. Ignatius Cemetery, River Road, Yardley.
In lieu of flowers, memorial donations may be made to Father Flanagan's Boystown – boystown.org.