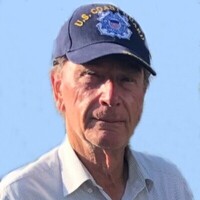 John Peter Dow Jr., "Jack", passed away surrounded by his loving family, on Wednesday, April 21, 2021 at the age of 84.
Born in Gary, Indiana, he spent a part of his childhood from 1948 to 1952 living abroad with his family in Concepción, Chile. Jack enjoyed sharing his fond memories of Chile with everyone.
He returned to the States with his family when he was 17 and they resided in Fairless Hills. A 1955 graduate of Pennsbury High School, he was a proud Pennsbury Falcon. Jack loved all sports, especially Pennsbury High School football which he played himself. He also enjoyed watching professional football and baseball.
After high school, Jack joined the United States Coast Guard. He attended basic training in Cape May, NJ, then served in Kodiak, Alaska as a Radarman on the Coast Guard Cutter Storis. After serving his country, he worked as a Crane Operator at United States Steel, Fairless Works for 35 years. When he retired, he worked at Pennsbury School District as a Bus Driver for 11 years and Adventureland Day Camp for 20 years.
A resident of Falls Township for 69 years, he spent the last 43 years in Morrisville where he raised his family and was known as the Mayor of the neighborhood. Jack enjoyed spaghetti and meatballs with Chianti every Sunday and Thursday, a family tradition he carried on from his mother and father. There were so many wonderful Dow family gatherings, dinners, birthdays and holidays celebrated throughout Jack's lifetime.
Beloved husband of nearly 51 years to Barbara (Southard), Jack is the loving father of Deanna Glose (Bob) and Andrea Quinlan; and the devoted grandfather of Connor and Carson. Jack was a proud Pop-Pop at Connor's basketball games and Carson's baseball games.
He is the dear brother of Don Dow (Beverly), Debby Gilardi (Frank) and Pat Dow (Bonnie) and an uncle to many nieces and nephews.
Friends and family are invited to call on Thursday, May 6, 2021, from 10:00 am – 11:00 am at Saint John Evangelist Church, 752 Big Oak Road, Morrisville, where the funeral mass will be celebrated at 11:00 am. The Rite of Committal will follow in Washington Crossing National Cemetery, Newtown.
In lieu of flowers, memorial contributions may be made to the National Military Family Association, 2800 Eisenhower Avenue, Suite 250, Alexandria, VA 22314 www.militaryfamily.org