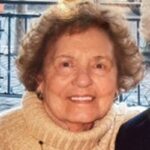 Nancy De Bronze
Nancy De Bronze of Lower Makefield Township, PA died on Sunday February 20, 2022, at Chandler Hall in Newtown, PA.
Born and raised in Trenton, NJ, daughter of the late Cesare and Marta Maria Colangelo Germani, she resided in Lower Makefield for the past 60 years.
In the Italian tradition, Nancy concentrated on making a home that was a warm and welcoming space for family and friends. She exuded love and kindness through her excellent cooking, especially her one-of-a-kind biscotti, and will be missed by everyone who spent time around her table.
Nancy was predeceased by her husband James Aversano and her husband, Vincent De Bronze. She was predeceased by her son James Aversano, and by her brother and sister-in-law Ben and Nancy Germani. She is survived by a son, Vincent De Bronze, her daughter, Carol Ann Aversano Hartigan and her husband, William Hartigan, as well as her daughter-in-law, Roseann Aversano.
Nancy was a beloved "mommom" to five grandchildren, James Aversano, III (Suzanne), Joelle Mileski (Ryan), William Hartigan, III (Jennifer), Joseph Hartigan (Nina), and Caroline Mancini (Daniel). She was also "mommom Bronze" to ten great grandchildren, Fiona, Frances, Madeline, Olivia, and Matthew Hartigan, Jake, Josh, and Justin Mileski, and Annabelle and Simona Mancini, for whom she always had a special treat.
She was affectionately known as Aunt Nancy to special nieces and nephews, Diane and Dennis Steadman, Robert and Cheryl Germani, Ralph Gervasio and Linda and Fred Lubieski and many other nieces, nephews and friends.
Her funeral Mass will be celebrated at 10:30am on Thursday, February 24, 2022 at St. John the Evangelist Church, 752 Big Oak Road, Morrisville, PA, where friends may call from 8:45am to 10:15am. Burial will follow at Holy Sepulchre Cemetery in Hamilton Twp., NJ. In lieu of flowers the family requests donations to Penndel Mental Health Center or a charity of the donor's choice.