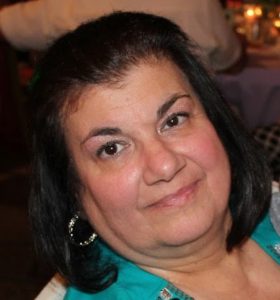 Dianne Pupo, age 70 of Yardley, PA, passed away on Monday, September 14, 2020 at her home, with her family by her side.  Born in Philadelphia, Dianne lived in Yardley for the past 35 years.
Prior to her retirement, Dianne was employed as a medical technician for many years. She was a parishioner of Saint John the Evangelist Roman Catholic Church in Yardley. 
A quintessential Italian mother, Dianne's greatest joy was her family.  She loved cooking and hosting family dinners, parties and holidays.  Her home was always filled with love and warmth, leading to a revolving door of family, friends and neighbors dropping in to catch up over a cup of coffee.
Dianne also loved to travel.  In the early years of their marriage, Dianne and her husband Pat were world travelers.  After having their children, they were able to instill a love of traveling in them.  As the years went by, her preferred vacation was cruising to various ports of call.  It wasn't about where the destination was, but who she was with, being able to sit in the fresh air on deck in the middle of nowhere with a good book and to then share a delicious dinner with those she was traveling with.  More recently, she was able to take her dream vacation which was a family cruise with her husband, children and grandchildren.
Daughter of the late James and Maria (DeFilippis) Mollo, she is survived by her loving husband Pasquale (Pat) Pupo, her son and daughter-in-law Jeffrey and Angela Pupo, daughter and son-in-law Melissa and Vince Troiani and daughter and son-in-law Adrienne and Jody Fine, as well as her sister Carol Keane.  She also leaves behind the greatest loves of her life, her seven grandchildren;  Priscilla, Giuliana, Domenic, Alexandra, Giuseppe, Anthony and Alyssa.  Dianne will also be dearly missed by her very large extended family and her many friends and neighbors.
Family and friends may call Tuesday, September 22, 2020 from 7 to 9 PM at the J. Allen Hooper Funeral Chapel, 41 W. Trenton Avenue, Morrisville, PA 19067, and also on Wednesday, September 23, 2020 from Noon to 1 PM at Saint John the Evangelist Roman Catholic Church, 752 Big Oak Road, Morrisville PA, 19067 followed by a Mass of Christian Burial.  Interment will be at Washington Crossing National Cemetery, Newtown, PA.
To honor Dianne's everlasting love of her grandchildren, in lieu of flowers please consider making a contribution to the education fund of the Pupo Grandchildren.