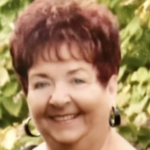 Beverly Anne Argenti, age 80 of Levittown, PA passed away peacefully on Tuesday, February 21, 2023 at home, surrounded by her loving family after a courageous battle with pancreatic cancer.
Born in Camden, NJ, Beverly was raised in Collingswood, NJ and lived in Cherry Hill before moving to Levittown 60 years ago.  A graduate of Collingswood High School, Class of 1961, she worked as an account administrator for New Jersey National Bank for over 20 years.  Beverly was employed as a Falls Township crossing guard for the Pennsbury School District for over 18 years. Beverly enjoyed spending time at the Jersey shore, Pocono mountains, and Tioga Pa. She was fond of baking, cooking, dancing, shopping, but mostly enjoyed spending time with her family and friends. Never missing an opportunity to be the life of the party by cracking jokes and making inconspicuous bird calls!
Daughter of the late Homer and Genevieve (Butler) Jackson, predeceased by her sister Jean Winner and brother John (Jack) Robinson. She is survived by her loving husband Louis Joseph "Jake" Argenti and mother-in-law Gertrude Argenti, and her children Nicholas (Kerri), Denise (Neil), Tony (Michelle), and Renee (Bill). Nine grandchildren: Anthony (Amy), Marc (Holly), Brooke, Jake, Nicholas, Ryan, Allie, Emily, Chase, a great granddaughter Skylar, and several nieces and nephews.
Family and friends may call from 9:30 to 11:00 on Wednesday March 1, 2023 at St. John the Evangelist Catholic Church, 758 Big Oak Road, Morrisville, PA  19067.  Funeral mass starting promptly at 11:00. A live stream of the funeral mass will be made available on stjohnpa.org. Interment immediately following at St. Mary's Cemetery, 1200 Cedar Lane, Trenton, NJ 08610.
In lieu of flowers, memorial contributions, in Beverly's name, may be made to the National Pancreatic Cancer Foundation, (www.npcf.us) or to Fox Chase Cancer Research, (www.foxchase.org/giving).
To send flowers to the family or plant a tree in memory of Beverly Anne (Jackson) Argenti, please visit our floral store.