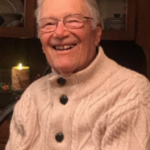 Anthony L. "Tony" DiMinno, of Newtown passed away on Sunday, April 2, 2023 surrounded by his loving family.
Tony was born on November 2, 1929 in Bronx, NY to the late Anthony and Irene DeMaria DiMinno.
He adored his parents who instilled in him a love of family. He grew up in the Bronx and inherited from his mother a love for great Italian food and from his father an enthusiasm for sports. He played basketball and stickball in the streets of New York, coaching his younger brothers and their friends. His early passion of sports led him to coaching his sons in baseball and a lifelong love for golf.
After graduating from Cardinal Hayes High School and Manhattan College with a business degree, he enjoyed a successful career while negotiating contracts in the aerospace industry.
He was a dedicated and loving father to his six children and endured their practical jokes. He instilled in them a competitive spirit which would make sports and game playing in DiMinno household a raucous event. When his six kids left home to pursue their careers, he'd always look forward to their visits during the Christmas Holidays bringing back all the joy, fun and antics of their younger years. His generosity was touching and he never forgot a birthday and hand-picked each card individually for each child and grandchild every year.
He adored his six grandchildren and loved them all equally. He lit up like a Christmas tree when he talked about them or when they visited.
In his early life, Tony was not a man of many words. He was known for his dry wit and silent communication. But boy did he brag about them to anyone who would listen. The only one he would boast about more was his amazing wife.
He and his wife, Patricia were blessed to be married for forty-one years. He was her best friend and devoted husband. He loved her with all his heart and his children have her to thank for his long, happy life.
His children and grandchildren may have all thought they were his favorite but Pat was the one.
Along with his loving wife, Tony is survived by his devoted children: Jainée DiMinno Patrice of Los Angeles, CA, Toni DiMinno Rhode of Santa Monica, CA, Thomas DiMinno and his wife Sandra of San Diego, CA, John DiMinno and his wife Kathryn of New Orleans, LA, Paul DiMinno of Rochelle Park, NJ, and Lisanne DiMinno of San Diego, CA; grandchildren, Dana Lea Marterella, Kendall DiMinno Rhode and fiancée David Kinrich, Samantha DiMinno, Mia DiMinno, and Delaney Burke; sister, Eleanor Moran. Tony was predeceased by his grandson, Nicholas DiMinno and his brothers, Leonard and William DiMinno.
Relatives and friends are invited to greet the family on Wednesday, April 5, 2023 from 9:30am until his funeral mass at 10:30am at St. John the Evangelist Church, 752 Big Oak Road, Morrisville, PA 19067, with interment to follow immediately at All Saints Cemetery.
In lieu of flowers, contributions in Tony's memory can be made to the American Diabetes Association, https://diabetes.org/.