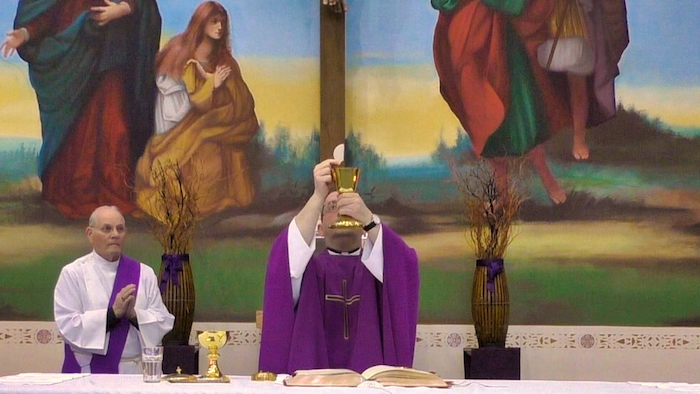 As you are aware of the Archdiocesan directives suspending the celebration of Mass in public, please know that I am privately celebrating Mass daily at 8:00 AM. That Mass is recorded and published on our website at stjohnpa.org and is available for viewing at 10:30 AM.
In addition, at the conclusion of each Mass the Most Blessed Sacrament is exposed in the Main Church.  The Church will remain open daily from 9:00 AM until 8:00 PM to allow our faithful parishioners an opportunity to spend some quiet time with the Lord.  Adoration will be in the Main Church.
It is good to take refuge in our Lord and to find our strength and our consolation in Him in such uncertain and tumultuous times.  Let us continue to pray for those affected by the virus and the continuing protection of our Lord through the intercession of His Blessed Mother.
Stations of the Cross booklets will be available on Friday evenings at 7:00 PM for anyone who wishes to come and pray this beautiful devotion privately.  Stations of the Cross will be in the Main Church.
Please know that as information is made available from state and local governments and the Archdiocese, I will communicate that to you.
Each and every day I continue to offer Mass and my prayers for all the faithful parishioners of Saint John's, your intentions and those of your love ones. 
Fr. Will
PLEASE NOTE:  The Church is being cleaned on a daily basis by our maintenance men and that within the body of the main church the requested social distancing is possible.