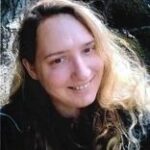 Jennifer Ryan Bubnis
Jennifer Ryan Bubnis passed away at her home on Saturday, July 10, 2021,
Born in Philadelphia, Jennifer has been a life long resident of Lower Bucks County and was a 2004 graduate of Pennsbury High School.
She was a member of Saint John the Evangelist Parish, Morrisville.
Jennifer was a US Army veteran.
She was always eager to learn and try new things and especially loved making everyone laugh and bringing joy to their lives.
She valued the love for her family the most.
Jennifer is the daughter of the late Pauline (Gentile) Bubnis, and dear sister of the late Rene L. Doan and Michelle Bailley.
She is survived by her loving father, John A. Bubnis; nieces Rebecca and Rachel Doan, aunts, Annette and Nancy; and several cousins.
Jennifer will be deeply missed by her family and many friends.
Family and friends are invited to call on Monday, July 19, 2021 from 9:30 until 10:30 am at Saint John the Evangelist Church, 752 Big Oak Road, Morrisville, where her funeral mass will be celebrated at 10:30 am. Interment will be held privately.