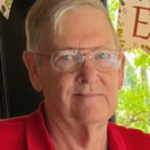 Robert "Bob" Webster, age 72 of Morrisville, PA passed away on Wednesday, December 28th, 2022, at Jefferson Bucks Hospital, in Langhorne, two days short of his 73rd birthday.
Robert was born to Charles F. Webster, Sr.  and Mary (Swope) Webster on December 30th, 1949, in Philadelphia, at 28th and Diamond St.  His family moved to Havertown, where Bob attended Waldron Academy in Merion, PA.  Bob played summer league baseball for Haverford Township for 6 years and later went to Haverford High School, where he played varsity baseball for two years before graduating in 1967.
While attending Johns Hopkins University, Bob applied and was accepted to West Point Military Academy.  Rather than attending school, he chose to serve his country immediately.  While in the service, he was a catcher on the Army Fast Pitch Softball Team. Robert completed 20 years in the Army and retired with a decorated career .  Following his military career, he worked in the family business, Process Applications, Ltd., as Director of Office Management.
Robert is survived by his loving wife of 31 years, Harriet Dougherty Webster, his daughter, Sarah (Bill) Schmoyer, granddaughter, Avery Schmoyer, and his brother, Fred (Mary Joy) Webster.  His sisters-in-law, Bernice Kravchak (Michael), Elizabeth Dougherty, and Patricia Delaney (Kevin), borthers-in-law, Michael Dougherty (Fran), and Kevin Dougherty (Darcy). He is also survived by 20 nieces and nephews and many great nieces and nephews.
Robert had a great sense of humor and was known as "funny man" to Sarah's classmates. He was a "second" dad to several of Sarah's friends.  Robert was a loving husband and father, never missing any of Sarah's theatrical performances over the years.  He made his stage debut in Big River at The NET in Morrisville, playing two small parts and working as part of the stage crew. His greatest pleasure was hearing Sarah sing at Mass.  He enjoyed gardening, taking care of his lawn, and playing frisbee with our Molly Moo.  Robert was always there if someone needed a helping hand.
Relatives and friends are invited to gather at Saint John the Evangelist Catholic Church , Big Oak Road, Yardley, PA, at 10:30 AM and attend his funeral mass at 11:30 AM on Wednesday, January 11, 2023.  His interment with military honors, will follow at 1 PM at Washington Crossing National Cemetery, 830 Highland Rd., Newtown, PA  18940.
To send flowers to the family or plant a tree in memory of Robert "Bob" Webster please visit our 
Tribute Store
.