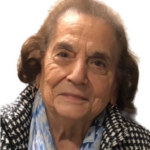 Jeanette Luciano Cutler, 97, of Langhorne, Pa., passed away peacefully surrounded by her family on May 21, 2023.
Born in Hoboken, New Jersey, on the fourteenth of May 1926 to Carmine and Libera Luciano. Jeanette resided in Hoboken and Jersey City, New Jersey, before moving to Old Bridge, New Jersey in 1956. While working at Keuffel and Esser in Hoboken, she met her loving husband, Donald Cutler Sr. They married in 1947 and raised three children. Her husband, Donald, passed away in 1983.
Jeanette is survived by her children Deborah Cretter and her husband Gary, of Waxhaw, North Carolina; and Karen Merrigan, and her husband Terence, of Yardley, Pennsylvania. She was predeceased by her husband, Donald Cutler Sr., her son, Donald Cutler Jr., and her brothers and sisters, Florence Alecci (Alvin), Nancy Urbowicz (Frank), Carmine Luciano (Marie), Michael Luciano (Jenny), Joseph Luciano, Josephine Gallo (Philip), Lillian Knight (Kenneth), and Ann Russo (Lenny). Jeanette was blessed with five grandsons who were the joy in her life, the late Donald Cutler III, Joseph Cutler, Michael Cretter, Thomas Merrigan, and Grant Merrigan, and loved and cared for them deeply. She is also survived by four great-grandchildren: Layne Cutler, Simone Cutler, Humphrey Cutler, and Heidi Cutler.
Jeanette worked in various industries throughout her life and knew the meaning of hard work. She was a strong and independent woman. Jeanette always lent a listening ear and was always willing to offer guidance by sharing her life experiences and dispensing wise advice. She was easy to talk to and will be missed and loved by many. Jeanette was an avid reader, loved to take long walks, and enjoyed watching classic movies. She lived a full and happy life.
The funeral mass will be held on Thursday, May 25, 2023, at 10:30 a.m., at St. John The Evangelist, 752 Big Oak Rd., Yardley, Pa. 19067. Visitation will be held at the church before mass from 9:30-10:30 a.m. Immediately following, the burial will be at Holy Cross Burial Park, 840 Cranbury South River Rd., Jamesburg, NJ. In lieu of flowers, memorial donations may be sent to St. Jude – Memorial Giving, 501 St. Jude Place, Memphis, TN 38105 or online at https://www.stjude.org.
Arrangements are under the care of the FitzGerald-Sommer Funeral Home 17 S. Delaware Ave. Yardley, PA 19067. Condolences for the family can be left at www.fitzgeraldsommerfuneralhome.com.
To send flowers to the family or plant a tree in memory of Jeanette Cutler please visit our 
Tribute Store
.