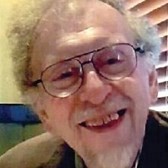 George J. Schultz, a resident of Fairless Hill, passed into eternal rest Friday, Dec. 27, 2019. He was 87.
He was born April 27, 1932, in Milwaukee, Wis., to George F. and Kathryn P. Schultz. The family moved to Green Bay, Wis., in 1938, where he graduated from Central Catholic High School and nearby St. Norbert College. He began his writing career during his two years of college as news editor with two Green Bay radio stations. Upon graduation, Schultz went into active duty with the U.S. Army as a First Lieutenant assigned to the National Security Agency headquarters in Washington, D.C.
Upon completing his military service, he returned to Green Bay, as a reporter for the Green Bay Press-Gazette. But Washington, D.C., beckoned again and he returned there, first on a congressional staff and then as a public affairs officer with the U.S. Agency for International Development and the Department of Commerce. Subsequently, he transferred to the New York City Department of Commerce regional office at the World Trade Center, residing in West Windsor, N.J.
After leaving the Department of Commerce, Schultz worked from his residence and also published his book Foreign Trade Marketplace. He was also employed by a few public relations and advertising firms and was a contributing editor to various trade and technology magazines.
As an avid sports lover, especially of the Green Bay Packers and Chicago Cubs, he coached his children's' youth soccer and baseball teams. He also volunteered with the media center at the 1994 World Cup Soccer tournament.
Music was ever-present and always playing in George's life. His passion for music helped him become a member of various choral groups. He performed with Voices Chorale in Princeton, N.J., Master Chorale in Haddonfield, N.J., and most recently with St. John the Evangelist Catholic Church in Morrisville. He also was a member of the Princeton Society of Musical Amateurs.
He is survived by his two sons and daughter, and four grandchildren, George A. and Pamela Schultz (Nicholas and Christopher) of West Windsor, N.J., John and Lori Schultz (Katie and Ian) of Littleton, Colo., and Marianna Schultz and Darrion Heffner of Warminster, Pa.
Funeral services will be held at 9:30 a.m. Thursday, Jan. 2, at St. John the Evangelist Catholic Church, 752 Big Oak Road, Morrisville, where visitation will be from 9 to 9:30 a.m. Interment will immediately follow in Washington Crossing National Cemetery, 830 Highland Road, Newtown.
In lieu of flowers, donations may be made to the Princeton Society of Musical Amateurs, 50 Dogwood Hill, Princeton, NJ 08540.