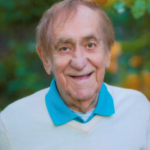 Bernard (Bernie) J. Fabrizio, aged 97 of Yardley, PA, passed away peacefully on Saturday, September 11, 2021 at Richboro Care Center, Richboro, PA.  Born in Penndel, PA on March 22, 1924, Mr. Fabrizio lived in Levittown for 11 years before moving to Yardley in 1963.  He has lived in the same house ever since.
He graduated from Langhorne Middletown High School in 1942 and proudly served in the United States Army during World War II from 1943-1946, serving in the 144th Medical Training Battalion.  Always noted for being an exceptionally hard/dedicated worker, he grew up on a farm on Lincoln Highway in Penndel during high school.  Upon his discharge from the Army, he worked for Eastern Aircraft in Trenton, NJ.  He then studied Civil Engineering and went to work for William S. Erwin Civil Engineering as a surveyor and draftsman in 1950.  In 1959 he worked for four years as a draftsman for William J. Levitt and Sons, making affordable communities in Levittown, NJ, Levittown, NY and Levittown, PA.  He then worked for Herb Smith and Associates for three years before finishing out his final 34 years working for Parsons Brinckerhoff Engineering Services as a draftsman, 1965 through 1999.  To provide the best for his family, he always maintained part time jobs during most of his adult life.  He worked at the Roosevelt Drive In from 1959 until its' closing in 1984, spending the last 20 years as the manager of the facility.  He also worked part time at the Bucks County Sheridan Hotel in Langhorne, PA from 2000 through 2009, serving as the morning host in the hospitality suite.  He served as a head usher at St. John the Evangelist Roman Catholic Church in Morrisville for his last 20 years. He was one of the original members of St. John's parish.  He was an avid bowler throughout his life and in his golden years he enjoyed playing in senior adult softball leagues.  He also enjoyed following Philadelphia sports teams (Phillies and Eagles) and closely monitored current events and politics.  He was ALWAYS noted for his kindness to all, dedication to his family, being unbelievably hard working and one who always took pride being a patriotic American.  He NEVER missed voting in an election.
Son of the late Nicholas and Ann (Pfeiffer) Fabrizio and husband of 56 years to the late Rosemary (Zilli) Fabrizio, he is survived by four sons, Joseph, Jeffrey, Gregg and Brian, ten grandchildren, Caesar, Joseph James, Frank, Heather, Melissa, Brian Jr., Mia, Gabriela and Sarah,  three great grandchildren, a sister Rita, and numerous nieces and nephews. He was especially beloved by all of his family.  He never missed a holiday or birthday with them.  He will be sorely missed!
His viewing will be Sunday evening, Sept. 19, 2021 from 7-9 PM at the J. Allen Hooper Funeral Chapel, 41 W. Trenton Ave., Morrisville, PA 19067, and on Monday from 9:30-10:30 AM at the church.  Relatives and friends are also invited to celebrate his Funeral Mass on Monday, 10:30 a.m. Sept. 20, 2021 at St. John the Evangelist Roman Catholic Church, 752 Big Oak Road, Yardley, PA  19067.  His interment will follow in Our Lady of Grace Catholic Cemetery, Route #1, Langhorne, PA.  Friends and family are invited to celebrate his life with a 1:00 luncheon at The Bucks County Sheridan Hotel, 400 North Oxford Valley Road, Langhorne, PA.
To send flowers to the family or plant a tree in memory of Bernard J. Fabrizio, please visit our floral store.