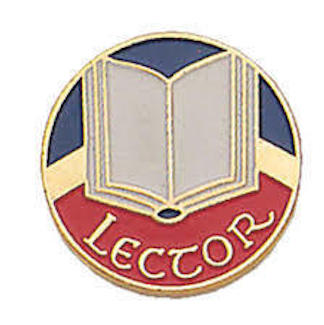 Sacred Scripture is an essential element of the mission of the Church.  It is the Word of God that is proclaimed, preached, preserved and guaranteed by the Church and celebrated and made alive in the liturgy.
The Lector proclaims the Word in a way that is respectful, understandable and meaningful to the congregation. To adequately proclaim the Word a Lector should reflect on the Sunday readings daily, pray frequently and read spiritual materials in order to make the Scripture more meaningful to himself and the congregation.
The director of the Lectors will provide suggestions and opportunities to help fulfill these suggestions. Lectors serve at weekend and Holy Day liturgies on a rotating basis. Anyone who has received all Sacraments of Initiation (Baptism, Confirmation, and Holy Eucharist) is welcome to apply to participate in this very important ministry of the Church.
Contact: Cathleen Lynskey, 215-295-4102
Patron Saint of Lectors
St. Bede the Venerable was born around the time England was finally completely Christianized. Raised from age seven in the abbey of Saints Peter and Paul at Wearmouth-Jarrow, and lived there for the rest of his life. Ordained in 702 by Saint John of Beverley. Teacher and author, he wrote about history, rhetoric, mathematics, music, astronomy, poetry, grammar, philosophy, hagiography, homiletics, and Bible commentary.
He was known as the most learned man of his day, and his writings started the idea of dating this era from the incarnation of Christ. The central theme of Bede's Historia Ecclesiastica is of the Church using the power of its spiritual, doctrinal, and cultural unity to stamp out violence and barbarism. Our knowledge of England before the 8th century is mainly the result of Bede's writing. He was declared a Doctor of the Church on 13 November 1899 by Pope Leo XIII.