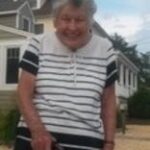 Mary (Bliss) Devine
Yardley – Mary (Bliss) Devine, age 90, of Yardley, PA, passed away in her home from natural causes on June 14, 2021, surrounded by her family.
Mary was born on August 2, 1930 in the Bronx, NY to Joseph and Mary "May" (O'Connell) Bliss. She attended Cathedral High School in Manhattan and worked for Bell Telephone Company after graduating. On May 18, 1957, she married Francis Devine of Brooklyn, NY. They raised two daughters, Christine, and Maureen, and four sons, Richard, Stephen, Daniel, and Thomas. The family moved from New York to Simcoe, Ontario in 1965 and then to Chicago and to Seattle before settling in Yardley in 1976. Mary's warm welcome, her jovial spirit, and her delicious Irish soda breads and apple pies made lasting friends of neighbors in each place. In later years, Mary served as a crossing guard at Pennwood Middle School in Yardley, where parents and students relied on her special care and friendly greeting in all weather.
Mary loved traveling with her husband and friends and putting her feet in the sand at the shore with her children and grandchildren. She also loved cooking for large family gatherings and was an avid bowler. To know Mary was to know her enthusiasm for life, her infectious smile, and her abiding love of her family in everything she did.
Mary was preceded in death by her son, Stephen, her father, Joseph, her mother, May, her husband, Frank, and her brother Robert. She is survived by her children, Christine (Michael) Devine of Yardley, Richard (Sean) Devine of Brooklyn, Maureen (Brendan) O'Reilly of Yardley, Daniel (Jean-Anne) Devine of Wheeling, WV, and Thomas (Santina) Devine of Philadelphia, her brother, Joseph (Maureen) Bliss, of Matawan, NJ, her cousin, Hilda O'Connell of Manhattan, numerous nieces and nephews, and six grandchildren, Bridget, Aidan, Molly, Lily, May, and Iris.
Visitation will be held on Thursday, June 17, 2021 from 6-8pm at FitzGerald-Sommer Funeral Home, 17 S. Delaware Avenue, in Yardley. Her funeral Mass will be celebrated on Friday, June 18, 2021 at 10am at St. John the Evangelist Church, 752 Big Oak Road, in Morrisville, PA. Burial will follow at St. Ignatius Cemetery, 875 River Road, in Yardley.
Donations in Mary's memory may be sent to The Muscular Dystrophy Association at mda.org.