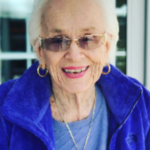 Mrs. Rosemary Adams of Newtown, PA and formerly of Holgate, NJ and Duck Key, FL passed away Monday June 20th at The Birches in Newtown, PA. She was 94.
Born in Minneapolis, MN she was the daughter of the late Paul and Helen Seledic. Rose was the beloved wife of the late Robert Adams for 49 years until his passing. Rosemary was a native of Minneapolis Minnesota. She entered the College of St. Catherine School of Nursing in Minneapolis shortly after her graduation from high school.  She interned at St. Mary's Hospital in Minneapolis and later her interest in psychiatric nursing led her to take post-graduate work in that field at the University of Minnesota.
Rosemary (Seledic) Adams knew all along that she wanted to be a nurse. "It isn't difficult if you know what you want – and I've been very sure that I wanted to be a nurse since I was a little girl."  "My mother was a nurse, and her work was such a satisfying and rewarding part of her life.   This gave me a very great respect for the nursing service."  Rosemary entered the Air Force in 1957.  Her first assignment in the Air Force Nursing Corp was at Sheppard Air Force Base Hospital in Texas, with a focus on psychiatric care.  She later went on to serve as a Captain in the Air Force at various bases including being stationed in Japan and Wright Patterson Air Force Base in Ohio, where she met and married her husband, Dr. Robert Adams, a psychiatrist also in the Air Force. She continued her service to others in retirement as a volunteer at the Domestic Abuse Shelter of the Florida Keys.  She was a devout Catholic with a progressive view of inclusion.
Rosemary enjoyed spending time at her homes on Long Beach Island, NJ and on Duck Key, Florida. She enjoyed gardening and held an avid interest in wildlife. She also enjoyed cooking and spending time on the water, boating.  She will be remembered by many for her family- style meals that were often open to all. She was known for letting her actions speak louder than words and always looked for the good in people. She opened her home for others and let people know they were always welcome, if they ever needed a place to stay or lay their head for the night.  She was the great caretaker and extended Mother to many. She was also keen not to miss out on her happy hour glass of Chardonnay.
Rosemary is survived by her son Robert E. Adams and partner Marcia MacKillop of Ewing, NJ and son Patrick J. Adams and his wife Lucia of Newtown. She also leaves behind her grandchildren Robert Adams, Matthew Adams and Katarina Adams, Sofia Adams.
In lieu of flowers, donations in her name may be made to the Alzheimer's Association.