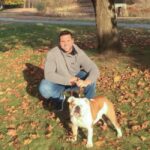 Daniel Patrick Mongiori, a resident of South Philadelphia, passed away on August 19th, 2023. Affectionately known as Danny, he graced the world with his presence on August 4, 1982, in Queens, NY. He brought joy, strength, and boundless energy to those fortunate enough to know him.
From a young age, Danny's love for sports ignited a passion that burned brightly throughout his life. Growing up, he shared countless memorable moments playing baseball and football with his brothers, sister, and father, Charles Mongiori, who fostered his competitive spirit from the earliest years. In those days, Danny was often called "The Home-Run King" down at Elm Jack L.L., in Queens, NY, and continued to carry that title at Macclesfield in Lower Makefield, PA. His athletic prowess was undeniable, and his dedication to both baseball and football carried him through a successful high school career at Pennsbury High School, where he proudly wore the varsity jerseys of both sports.
Throughout his childhood and adult life, Danny was nurtured by the unwavering love and care of his mother, Ellen McPartland-Mongiori of Bucks County, Pa., who supported his passions and dreams with boundless affection.
Danny's educational journey led him to East Stroudsburg University, where he graduated with a degree in Fitness and Business management and then embarked on the next chapter of his life. He began working with startup gyms and moved on to the business side of gyms and worked with many failing gyms to help them succeed.
Beyond his love for sports, Danny possessed an unwavering commitment to health and fitness. His journey led him to a flourishing bodybuilding career, where he exemplified discipline and determination to achieve his goals. His dedication to fitness served as an inspiration to all who knew him.
Danny's heart extended to the animal kingdom, and he found a special bond with his beloved dog, Mickey. Their companionship was a testament to his capacity for love and compassion.
Surrounded by his loving family, Danny is survived by his parents: Ellen McPartland-Mongiori of Bucks County, Pa., and Charles Mongiori of Queens, NY; his brothers: Kevin and Ryan Mongiori of Bucks County; his sister: Christina (Dan) Williams of New Jersey; and his niece: Emerie Williams of New Jersey. He also leaves behind his maternal Grandmother, Philomena McPartland of Queens, NY, and paternal grandmother, Margaret Mongiori of Queens, NY. Additionally, he leaves behind his long-term friends Brandon Bingler of Saylorsburg, PA, Michelle Skurchak of Hackettstown, NJ, Robert Cartalemi of Effort, PA, Michael Corbo of Saylorsburg, PA, Blake Bingler of Saylorsburg, PA, Robert Miller of Budd Lake, NJ, William Rese of Brodheadsville, PA, and Rami Abdel-all of California.
He will be deeply missed by his many aunts, uncles, cousins, and extended family, both from the Mongiori and McPartland families, all of whom spent a great deal of time with him throughout his life and loved him very much.
Danny had many friends throughout his life, and one of his favorite pastimes was simply gathering with them and grilling a good steak in the backyard.
His impact on all of his family and friends' lives is immeasurable, and his memory will forever remain in their hearts.
In the tapestry of life, Danny's thread was woven with strength, passion, and an unyielding spirit. He leaves behind a legacy of athletic excellence, dedication to health, and a heart full of love.
As we bid farewell to Danny, let us remember the indelible mark he left on our lives and find solace in the cherished memories we shared with him.
Rest in peace, dear Danny. Your presence will be deeply missed, but your spirit will forever live on in our hearts.
Service arrangements are being handled by the family and will include a Mass at St. John the Evangelist Catholic Church in Morrisville, PA, on September 16th at 10:30 a.m. Friends and family may gather at the family home in Morrisville afterward. There will be a private interment at the Gate of Heaven Cemetery in Hawthorne, NY. In lieu of flowers, the family asks that you consider donations to the ASPCA in Danny's memory. E-cards from any donations can be sent to Ellen at Mcpartland.Ellen@gmail.com.