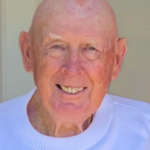 Joseph A. Grzymkowski of Morrisville formerly of Langhorne passed peacefully on Monday, February 20, 2023 at Holy Redeemer St Joseph Manor. He was 85.
Joseph was the beloved husband of Lucille T. Grzymkowski for 58 years until her sudden passing in 2018.
Born in East Hartford, CT, he was the son of the late Joseph A. and Phyllis Godek Grzymkowski.
Joe was a graduate of East Hartford High School, class of 1955 and received his Bachelor of Arts degree from St. Anselm's College in 1960.
He was a Pharmaceutical Sales/Hospital representative, covering the New England Territories through 1982.  After winning multiple Sales Awards, E.R. Squibb & Sons promoted Joe into their home office in Princeton, NJ and he moved his family to Langhorne in 1983.
Joe remained in the Bristol Myers Squibb Home Office, holding various positions, through 1995.  After 30 years of service, Joe decided to take an early retirement.
Joe was a faithful communicant of the Church of St. Andrew, Newtown, and later at St John the Evangelist, in Morrisville.
He enjoyed his retirement, with his beloved wife Lucille, traveling the world, and taking retreats with the family to Hilton Head Island, SC.  Joe became an avid fan of the game of golf, playing any chance he could, and always looking to improve his game.  He was fortunate to have 2 hole in ones, in 1996 and 2019.
Later in retirement he and Lucille enjoyed the winter months on the Palm Coast of Florida at Sand Dollar Shores, meeting and making many new friends.
Joe loved being around his family and friends, his NY sports teams, a good bottle of wine, a rare steak, and his UCONN Huskies Womens basketball team.  He also enjoyed being outside caring for his various rose bushes, vegetable gardens, and riding his bike.  Joe equally enjoyed reading, diving deep into War History.
Joe will be sadly missed by his loving family and many friends.
He is survived by his devoted children Joseph A. Grzymkowski and his wife Arlene of Mooresville, NC, James Grzymkowski and his wife Carol of Clayton, NC, Janet Horn and her husband Richard of Morrisville and Steven Grzymkowski and his wife Christine of Pipersville and his brother Francis Grzymkowski and his wife Barbara of Nesconset, NY and his Sister-in-law Sister Janet Belcourt of Manchester, NH. Joe is also the proud grandfather of thirteen grandchildren Jessica and her husband Peter, Joshua and his wife Sarah, Rick and his wife Stephanie, Nicholas, Theresa and her husband Frank, Stephanie, Meghan, Julia, Emma, Evan, Aaron, Olivia and Sophie; and five great grandchildren, Sebastian, Avery, Ignacio, Archer and June. He is also the proud uncle of Francis Grzymkowski, Vicki Kinsella and Cheryl Jensen.
Joseph's family will receive condolences on Thursday evening, February 23, 2023 from 6:00pm to 8:00pm at the Joseph A. Fluehr III Funeral Home 800 Newtown-Richboro Rd. (at Holland Rd.) Richboro; and on Friday morning, February 24, 2023 in St. John's Evangelist, 752 Big Oak Road, Morrisville, PA 1906, from 9:30am until his Funeral Mass, 10:30am. His interment will follow in Newtown Cemetery, Newtown.
Contributions in his memory may be made to First Tee, PO Box 3055, Ponte Vedra Beach, FL 32004. https://firsttee.org/donate