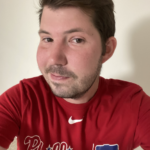 Andrew D. Henrickson, 34, of Rockledge and Yardley, PA, died unexpectedly on February 14, 2023, at home.
Born in Philadelphia, he has been a lifelong area resident. Drew was a graduate of St. John the Evangelist School, Notre Dame High School, and Penn State University. Drew was most recently employed as the sales manager for Endurance Sports, and was a professional cat dad. Drew's hobbies included biking, rock climbing, hiking, axe throwing, archery, golf, ice climbing, travelling, and Quizzo. Drew lived life to its fullest, despite his abbreviated time here on Earth. Whether he was climbing mountains in the U.S. or abroad, or teaching young children to speak English in a foreign country to keep them from begging on the streets, he embraced challenges and met them head on. He never met a stranger because he was a friend to all. He loved deeply, and if Drew was your friend, he would go to the ends of the Earth for you.
Drew is survived by his loving parents Susan and Dan Henrickson of Yardley, the love of his life Mary Rochford, his sister Rachel Kinney (Dustin), sister Danielle Morey (Tim), his niece and nephews Sawyer, Harper, Pierce, Nolan, and Colton, and one of his favorite people on Earth, his Grandma Ginny Bouwmans. He is also survived by his aunt Sandy Kaplan, his uncle Scott Bouwmans, his cousins Ron Varrial (Angi), Cory Varrial (Emma), Lucas, Logan, and Phillip, and friends both near and far who already miss him dearly.
The funeral mass will be celebrated on Tuesday, February 21, 2023, at 10:30am at St. John the Evangelist Church 752 Big Oak Rd. Morrisville, PA 19067. Calling hours will be held on Monday, February 20, 2023, from 5:00pm to 7:00pm at the FitzGerald-Sommer Funeral Home 17 S. Delaware Ave. Yardley, PA 19067, and again on Tuesday morning from 9:30am to 10:30am at the church.
In lieu of flowers, memorial contributions can be made to either the Philly Bully Team Pitbull Rescue (www.phillybullyteam.org) or to the Brookline Lab Rescue (www.brooklinelabrescue.org).
We know everyone has a "Drew story" to share, and we encourage you to share them on Drew's tribute wall (www.fitzgeraldsommerfuneralhome.com).