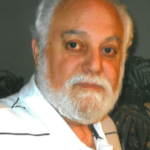 Dominick James Marrazzo, age 84 of Morrisville, PA, passed away peacefully on Saturday, January 28, 2023 at Majestic Oaks Nursing Home in Warminster.  Mr. Marrazzo was born in, and was a lifelong resident of, Morrisville, PA.
A parishioner of St. John the Evangelist Catholic Church, he was a longtime member of the Morrisville Italian American Club.  Along with his wife, he enjoyed trips in their travel trailer and spending the summers in Ocean City, MD.  Dominick was fond of going to dinners with his friends, family and cousins.  He spent hours tinkering and fixing just about everything, but most of all loved spending time with his granddaughter.
Son of the late Dominic and Mary (Pesce) Marrazzo and brother of the late Mary Carmella Neuman, he is survived by his loving wife Constance (Smith) Marrazzo, his daughter and son-in-law Tiffany and Rick Karpinski of Langhorne, PA, and a granddaughter Taylor Ann Karpinski.
Relatives and friends are invited to attend his funeral mass at 10:30 AM on Thursday, February 2, 2023 at St. John the Evangelist Catholic Church, 752 Big Oak Road, Morrisville, PA  19067.  His interment will be held at 2 PM Thursday at Bethlehem Memorial Park, 1851 Linden St., Bethlehem. PA  18017.
His viewing will be held on Wednesday evening, Feb. 1, 2023 from 7-9 PM at the J. Allen Hooper Funeral Chapel, 41 W. Trenton Ave., Morrisville, PA  19067.
In lieu of flowers, memorial contributions in Mr. Marrazzo's name may be made to St. Jude Children's Research Hospital.   www.stjude.org.