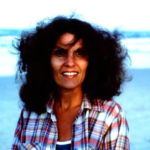 Adele Jeanne "A.J" Cesareo, age 81 of Yardley, PA, formerly of Robbinsville, NJ, passed away peacefully on Saturday, February 4, 2023 at her home. Born in Paterson, NJ, A.J. lived in Hillsdale, NJ for thirty years and Robbinsville, NJ for fifteen years before moving to Yardley two years ago.
Prior to her retirement, she was the owner of Media Concepts in Westwood, NJ, a public relations and advertising firm, for 20 years. AJ was a parishioner of Our Lady of Good Counsel Church in Washington Township, NJ, where she served as a deacon and was the first woman lay lector of the church. A.J. served as the first woman President of the Rotary Club in Westwood, NJ and was secretary of the Pascack Valley Chamber of Commerce. An art deco collector, she was a member of the North Jersey Depression Glass Club in Bergen County. Adele enjoyed going to flea markets and garage sales, was fond of cooking, and loved the beach at her home on Long Beach Island. AJ's greatest joy was spending time with her family and good friends. She loved having dinner parties and weekend long adventures at her beach home. She was always ready to help out whether volunteering at a food pantry, babysitting her grandkids or cooking for a sick friend. She was truly a selfless person and was always looking to help those in need.
Daughter of the late Anthony and Rose (Giuca) Celli, she is survived by her husband Stephen Bruce Cesareo, a son and daughter-in-law Stephen Alan and Elizabeth Cesareo of Randolph, NJ, two daughters and sons-in-law Monica and Nicholas Dottino of Long Beach Township, NJ and Elizabeth Jeanne and Christopher Kearney of Yardley, ten grandchildren Christina, Kiera, Nicholas, Owen, Ian, Sarah, Julia, Anthony, Emily and Connor, as well as several nieces and nephews.
Relatives and friends are invited to celebrate her funeral mass at 10:30 AM on Thursday, February 9, 2023 at St. John the Evangelist Roman Catholic Church, 752 Big Oak Rd., Morrisville, PA 19067. Her interment will follow at 1:30 PM at George Washington Memorial Park, 234 Paramus Rd., Paramus, NJ 07652.
Friends may call Thursday morning from 9:30 AM – 10:30 AM at the church.
In lieu of flowers, memorial contributions in Adele's name may be made to St. Jude Children's Research Hospital (www.stjude.org) or to the American Cancer Society (www.cancer.org).
To send flowers
to the family or plant a tree
in memory of Adele Jeanne (A.J) (Celli) Cesareo, please visit our floral store.