Joan Jackman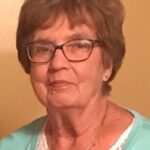 Joan Marie (VanWinkle) Jackman of Yardley, Pa passed away peacefully the morning of November 27, 2022, at Rockhill Community in Sellersville, Pa.
Joan was born in Upper Darby, Pa on January 6, 1938, where she attended St Lawrence Elementary and Villa Maria Academy High School. Joan attended Fitzgerald Mercy Nursing School prior to starting a family and completed her Nursing degree at the age of 45 at Helene Fuld, Trenton, NJ. Joan then worked as a RN in several hospitals, completing her career as a hospice nurse for Chandler Hall, Newtown, Pa.
Joan is preceded in death by her parents, Joseph and Josephine (Tobin) Van Winkle, her infant sister, Kathleen, and her beautiful great-granddaughter Kaylin Marie Pahulick. Joan is survived by her sisters, Sr. Maureen Christi (nee. Mary) Van Winkle and Clare (Kevin) Sarkissian; her loving husband of 64 years, Thomas Sr.; her children, Thomas Jr (Gerri) Jackman, Colleen (Eric) Kugler, Lauren Jackman, Christine (Mark) Levy, and Megan (Andrew) Yencha; Memom to Nichole (Mark) Pahulick, Daniele (Scott Harrison) Jackman, Ashley (Nick Kristoff) Jackman, Austin (Emily Booker) and Connor Kugler, Hunter Jackman, Trent, Garrett, Ralph, Morey, Quintin Levy, and Stephen, Matthew, Timothy, Brielle, Michael, Jack Yencha, and Great-Memom to Taylor and Mckenna Pahulick, Aidyn Harrison, Alexis Spadaccino and Levi Kristoff. Joan will be remembered as a loving aunt to her nieces and nephews and as a good friend to many.
Joan's strongest devotions were to faith and family. She had a strong devotion to Mother Mary. From den mother to cheerleading coach to barbecue celebrations in our Rice Drive backyard, she made every attempt to be involved and make her children's milestones memorable. Joan attended as many sporting and school events as possible for each grandchild. The family's strongest memories are holidays at her home and vacations at the Jersey shore. Joan's happiest time and place was the beach after the crowds had left and she could sit and watch the waves. After faith and family came friends and Philadelphia sports teams. Joan looked forward to her monthly Mahjong gatherings and school reunions with friends. Joan is a lifelong Eagles fan and became a dedicated Phillies fan, once her Philadelphia As left town.
Friends and family are invited on Saturday, December 3, 2022, to visit from 9:00-10:30 am prior to a funeral mass at 10:30 am to be held at St. John the Evangelist Church, 752 Big Oak Rd, Yardley, PA. A private interment will be held at a later date. A live stream of the Mass can be viewed at https://stjohnpa.org/ beginning at 10:25 a.m.
In lieu of flowers, a donation can be made to Camilla Hall, 100 Maxis Drive, Malvern, PA 19355 or Hayden's House of Healing (https://www.haydenshouse.org/donate).