Ruth "Pat" Bunn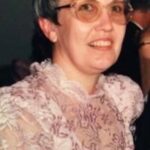 Ruth Viola Bunn (nee Glisson), "Pat" Bunn, of Yardley, PA, passed away peacefully at Chandler Hall on October 4, 2022 after a long battle with a pulmonary illness. Pat was the wife of the late Robert C Bunn and was a life-long resident of Lower Makefield Township. Pat was an avid gardener, supported several charities, and was a longtime volunteer at both St. John's Evangelist Church and the Yardley-Makefield Fire Company Ladies Auxiliary. She was a 1956 graduate of Pennsbury High School and a 1958 graduate of Rider College.
Pat is survived by her children Steven Bunn and his fiancé Teresa Carlin of Holland, PA; Kevin Bunn and his wife Joan of Fleetwood, PA; Suzanne Bunn of Pittsburgh; and Christopher Bunn and his wife Patricia of Yardley, PA. She is survived by her grandchildren Amanda Bunn, Dalton Bunn, Clark "CJ" Martin, Madison Martin, and William Bunn. She is also survived by her brother John Glisson Sr, and nephews John Glisson Jr, Frank Glisson, Timothy Glisson, Jeffrey Glisson, and James Glisson.
Pat will be dearly missed by her family and friends.
A visitation will be held on Thursday, October 13, 2022 from 6pm-8 pm at FitzGerald-Sommer Funeral Home, 17 S. Delaware Avenue, Yardley, PA 19067. Her funeral Mass will be celebrated on Friday, October 14, 2022 at 10:30 am at St John's Evangelist Church, Big Oak Road, Yardley, PA, where friends may call from 9am to 10:15am. Burial will follow at Newtown Cemetery, Newtown, PA.