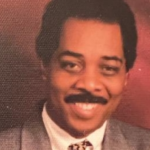 Adolphe Alaby, age 71 of Boca Raton, FL passed away peacefully on Friday, May 6, 2022 at Boca Raton Nursing and Rehabilitation Center.  Born in Port-Au-Prince, Haiti, Mr. Alaby was raised in Brooklyn and Queens, NY, then lived in Florida and Haiti before returning to Florida 6 years ago.
Prior to his retirement, Adolphe was employed as a computer analyst with Toll Brothers.  A sports enthusiast, he enjoyed playing soccer as well as tennis, especially with his daughter, and loved to root for his New York Knicks.  Additionally, Mr. Alaby was fond of wood working and listening to music, especially Jazz.
Son of the late Rene and Clairmene (Cange) Alaby, he is survived by a son and daughter-in-law Vladimir and Chantel Alaby of W. Deptford, NJ, a daughter Sophia Alaby of Morrisville, five brothers Yvel, Rene, Jacques Joel, Reynold and Yves Alaby, three sisters Carmel Jean-Boutin and Fetia and Sabine Alaby, three grandchildren Derrick, Jasmine and Brandon Alaby, and nieces and nephews Ruddy and Andrew Jean-Boutin and Natalie and Johnathan Alaby.
Relatives and friends are invited to celebrate his Mass at 10:30 AM on Friday, May 20, 2022 at St. John the Evangelist Roman Catholic Church, 852 Big Oak Rd., Yardley, PA  19067. His interment will follow in Our Lady of Grace Cemetery, Langhorne, PA.
Friends may call Friday at the church from 9:30 AM – 10:30 AM.
Arrangements have been entrusted to the care of the J. Allen Hooper Funeral Chapel, Morrisville, PA.
To send flowers to the family or plant a tree in memory of Adolphe Alaby, please visit our floral store.