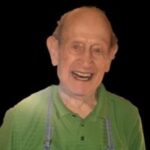 Peter J. Toner passed away on Thursday, December 2, 2021 at Saint Mary Medical Center in Langhorne at the age of 94.
Born in the Fairmount section of Philadelphia, he has been a long time resident of Lower Bucks County.
At the age of 17, Peter enlisted in the US Navy during World War II. While in the Navy Peter was assigned to the LST 517 and the USS Orion A.S. 18. Peter began a long career with the Federal Government in many various positions working at the Frankford Arsenal and Picatinny Arsenal, retiring in 1995, after 52 years of service. He was awarded many commendations for his service to the United States Government.
Peter loved time with his family and enjoyed cooking family dinners and watching old movies on TCM. He will be sadly missed by all.
He enjoyed watching the Eagles and the Phillies and was a lifetime member of the VFW Chester Terchon Post 5542, American Legion Post 317 in Yardley and a life member 3rd Degree Knights of Columbus, Saint Joseph the Worker Council 4215.
Beloved husband of the late Claire (Conner), Peter was the loving father of Daniel (Peggy), Patricia (Mick), Diane and Barbara; devoted grandfather of 5; proud great grandfather of 11; great great grandfather of 2; and the dear brother of Rosemarie Jans.
He will also be sadly missed by several nieces and nephews.
Peter is also predeceased by one brother and six sisters.
Family and friends are invited to call on Friday, December 10, 2021 from 9:30 until 10:30 am at Saint John the Evangelist Church, 752 Big Oak Road, Morrisville, PA 19067, where his funeral mass will be celebrated at 10:30 am. Interment will held privately.
In lieu of flowers, memorial contributions in Peter's name may be made to Saint John the Evangelist Church, at the above address.