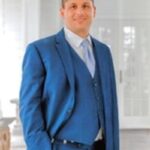 Michael A. Santicerma
Michael A. Santicerma, 35 of Holland formerly of Yardley, passed away at his home on November 29, 2021. He was a son, brother, nephew, cousin and was loved by so many. Throughout his life he had the kindest soul, touched the lives of countless hearts and was always willing to help others.
A loving son of Anthony J. and Deborah A. Santicerma, dear brother of Matthew and his wife, Kimberly Santicerma, and beloved grandson of Ann Schwartz. Michael was a graduate of Pennsbury High School Class of 2005 and a graduate of Delaware Valley University Class of 2009 with a Bachelor's of Science in Horticulture, Plant Science and Biotechnology. He enjoyed being outdoors hiking, snowboarding, going to concerts, and playing music. What he loved most was being with family and friends. Presently working as an Assistant Manager of the Deli at McCaffrey's Food Markets in Newtown.
He is predeceased by his grandparents Richard Schwartz, Joseph and Phyllis Santicerma. Survived by his aunts and uncles, Barbara Callahan (Joe) and Kathy Hassler (Ron), Dick Schwartz (Sharon) and Joseph Santicerma (Angel) and loved by all of his cousins.
Relatives and friends are invited to Michael's Life Celebration Sunday, December 5, 2021 from 2:00pm to 5:00pm at Swartz Givnish of Newtown, 323 Washington Ave, Newtown, PA 18940. Services will be held on Monday, December 6, 2021 from 9:00am to 10:00am at St John the Evangelist Catholic Church, 752 Big Oak Rd, Morrisville, PA 19067. Followed by his Funeral Mass at 10:00am. Interment will be at Newtown Cemetery. In lieu of flowers donations in Michael's memory may be made to Bowman's Hill Wildflower Preserve at www.bhwp.org, or plant a tree to grow in his honor.