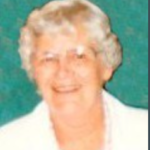 Dorothy A. Kenny, age 93 of Morrisville, PA passed away peacefully on Wednesday, Nov. 3, 2021 at Jefferson Bucks Hospital in Langhorne, PA. Born in Glendale, NY, Dorothy resided in Morrisville for the past 61 years.
She was a member of St. John the Evangelist Roman Catholic Church in Morrisville, where she was active in many of the women's organizations. Dorothy could always be found playing Solitaire on her tablet. She enjoyed knitting, but mostly loved her time at the beach with family and friends.
Daughter of the late Herman and Mary (Starin) Bohnhorst, wife of the late Walter F. Kenny, mother of the late Kathleen McCardell and mother-in-law of the late Debbie Hoff Kenny, she is survived by her son David Kenny of Pahrup, NV, three daughters and sons-in-law Patricia and Hank Kalencki of Huntersville, NC, Margaret and Paul Golightly of Amherst, VA and Eileen and Robert Stillman of Gilbertsville, PA, 11 grandchildren, 13 great grandchildren and many nieces and nephews.
Relatives and friends are invited to attend her Memorial Mass at 10:30 AM on Wednesday, Nov. 10, 2021 at St. John the Evangelist Roman Catholic Church, 752 Big Oak Rd., Morrisville, PA 19067. Friends may gather from 9:30 until time of Mass on Wednesday at the church.
Her interment at Washington Crossing National Cemetery will be held privately at the convenience of the family.
Arrangements have been entrusted to the care of the J. Allen Hooper Funeral Chapel, Morrisville, PA.
To send flowers to the family or plant a tree in memory of Dorothy A. (Bohnhorst) Kenny, please visit our floral store.