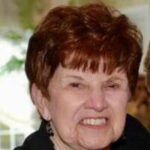 Kathleen "Kate" M. Brady, of Yardley passed away peacefully on Thursday, July 1st, 2021 at 8:45 PM at Chandler Hall Hospice in Newtown, PA. She was 93.
        Kate was born in Philadelphia, PA on April 15th, 1928 to Thomas P. and Catherine E. Tighe. Kate was a widow. Her beloved husband, John "Jack" Brady, preceded her in death on April 24th, 2013. They were married 61 years. Kate is survived by their three children – Dr. John (Greg) Brady and his wife, Anne of Allentown, PA; Eileen (Brady) Grebe and her husband, Michael of Ponte Vedra Beach, FL; and Kevin Brady. Kate was preceded in death by her brothers Thomas Tighe and Patrick Tighe. She is survived by her brother James (Jim) Tighe and his wife, Linda of Collegeville, PA. She was blessed with seven dearly beloved grandchildren – Erin Nily, Kevin Grebe, Katelynn Grebe, Allison Fritchman, Lindsey Giamei, Brigid Brady, Fiona Brady and Declan Brady. She also had three beautiful great grandchildren – Colin and Emmit Fritchman and Jack Giamei, named after her beloved husband. 
       Kate spent most of her life in Levittown, PA on Primrose Lane. It was a "Wonder Years" life for Kate coming from the city. Kate and Jack were pioneers of the post war suburbs. She was a member of St. Michael the Archangel Parish, was a Eucharistic Minister, a member of the Rosary group, and the Levittown Artist Association where she held several posts, including President. She was always an active volunteer for school and church.  Kate and Jack moved to Yardley, PA for their last 30 years, where she was then a member of St. John the Evangelist Parish. She was an amazing Mother and caretaker of so many. She took care of Jack's ailing parents for many years, and many other relatives over the years. 
       Kate always had an infectious smile and a huge heart for everyone she met. She had a kind and wonderful way of making you laugh, making you feel special, and most importantly, loved and welcomed.  She loved her Jack, her children and spending time with everyone. She hated to miss any holiday or fun occasion.  She loved to sing and dance and did so at any opportunity.  She even did some local theatre. 
       Kate become an accomplished artist, with a home studio.  She has her art work displayed in local art shows, homes of her family and friends alike. Her passion for the arts was outdone by only one other passion – she also loved to sing, especially the Irish classics such as Danny Boy, When Irish Eyes are Smiling, and even the slightly irreverent Bridget O'Flynn. Especially for fun family events like St. Patrick's Day. Her favorite holiday. That  sums up Kate – passionate about her family, her friends, her heritage, but always to have fun and make others laugh. When Irish eyes are smiling, sure they steal your heart away. Mom, Grandmom, Nana Cake, NK, Nanny, Nana Kate, Friend – we know you are reunited with your sweetheart Jack and smiling down on us. ''JackNKate" together again in heaven. One of the best couples and love stories. You have stolen our hearts away. 
    The family would like to thank all Kate's caretakers at Chandler Hall Hospice, Juniper Assisted Living and St. Mary Hospital. They also want to thank her friends and neighbors, who were her "village" during this past challenging year.  The family is especially grateful to Kate's caretaker and friend during Covid, Joanne. Joanne was with mom until her very last day. 
    Kate's life will be celebrated on Friday August 20, 2021 at St. John the Evangelist Church 752 Big Oak Road, Morrisville, PA 19067 from 10:15 am to 11:15 am with her Mass of Christian Burial to be held at 11:15 am. Her interment will follow the Mass in Washington Crossing National Cemetery. Friends are asked to direct questions to James O. Bradley funeral home in Penndel, PA. Or her daughter Eileen Grebe at Emgtennis10@gmail.com