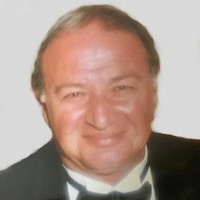 Vito Joseph Gianuzzi, 77, entered into eternal peace on Monday, February 17, 2020 at home after an extended and courageous battle with cancer.
Vito was born on January 30, 1943 in Wilkes-Barre, PA, the son of the late Philip and Angeline Gianuzzi. He graduated from the Grand Army of the Republic (G.A.R.) High School, Wilkes-Barre, PA, in 1960, and earned a Business Administration degree from King's College in 1964. After proudly serving his country in the Army Reserves, he joined the H.J. Heinz Company in 1965. For 38 years at Heinz, he served in a number of sales management positions, retiring as the Northeast Division Sales Manager in 2003.
He met the love of his life Elaine Benish during high school at G.A.R. They were the classic love story. They were married in May 1966 and were blessed with two loving daughters Maria and Lisa. He was an even prouder "Pop-Pop" to his four grandchildren: Matt, Megan, Ryan, and Lindsey.
Vito had an oversized personality and was one of those rare individuals who was beloved by all he touched. He was a cherished husband, father, and teacher to his own family as well as to his "extended family" of close friends and Heinz colleagues. He always thought of others first and had a loving and generous heart, always giving to others. After retiring to Bonita Springs, FL, Elaine and Vito continued to travel extensively and spent many winters in the Bahamas, as well as maintaining a summer home near Bethany Beach, DE.
In addition to Elaine, he leaves his loving memories to be cherished by daughters Maria Gregory (Chris) of Doylestown, PA, and Lisa McCarty (Dan) of Yardley, PA, and four adoring grandchildren, Matt, Megan, Ryan, Lindsey. He is survived by his loving younger brother, Philip Gianuzzi (Phyllis) of Baltimore, MD, his sister-in-law Irene Bitonti, of Wilkes-Barre, PA, and brother-in-law Joseph Benish of Carlisle, PA. In addition, he is survived by many nieces and nephews. He was predeceased by his sister MaryAnne George of Wilkes-Barre, PA.
Friends and relatives may call on Thursday, February 20, 2020, from 5:00 until 8:00 pm at the James J. Dougherty Funeral Home, Inc., 2200 Trenton Road, Levittown, PA. Friends may also call on Friday, February 21, from 9:00 until 10:00 am at St. John the Evangelist Church, 752 Big Oak Road, Morrisville, PA, where his funeral mass will be celebrated at 10:00 am. Interment will be held privately.