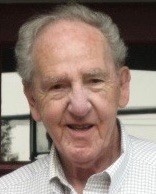 Robert F. Stasi of Yardley, PA died peacefully at home on Monday, August 12, 2019, with his family by his side. He was 84.
Robert is preceded in death by his parents, John and Angeline Camera Stasi, his brothers Joseph and Frank and sisters Carmella Franzosa and Anne Maria Evans.. He is survived by his loving wife of 62 years, Ann Boyle Stasi; his son, Robert (Philadelphia); son, Kevin and daughter-in-law Mary Jo (Miami); and two wonderful grandchildren, Chris and Emily (Miami). Born and raised in Hazleton, PA, he and Ann resided in Lower Makefield for the past 43 years.
Robert proudly served in the US Army in the Signal Corps. After leaving the Army, Robert worked as a supervisor for U.S. Steel Corporation Fairless Works until his retirement in 1985. After his retirement, he was a consultant for the Atochem Corporation. Bobby had a passion for his beautiful flowers, trees, and home. He loved spending time with his family and was a generous friend to everyone who knew him.
His Funeral Mass will be celebrated on Tuesday, August 20, at 1 p.m. at St. John the Evangelist Church, 752 Big Oak Road, Morrisville, where friends may call from 11:30 a.m. A military burial will follow at Washington Crossing National Cemetery. Donations may be made in Robert's name to Chandler Hall home hospice.