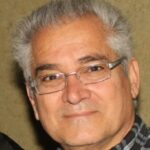 Pasquale 'Pat' Pupo, age 78 of Yardley, PA, passed away on Tuesday, September 26, 2023 at Saint Mary Medical Center in Langhorne, PA with his children by his side.  Pat was born in Isca sullo Ionio, Italy to the late Vincenzo and Elisabetta (Ortona) Pupo.  He lived in Philadelphia before moving to Yardley 38 years ago.  Prior to his retirement, Pat was employed for over 30 years as an appliance technician with General Electric.  Pat was a parishioner of St. John the Evangelist Roman Catholic Church in Morrisville.
Pat had one priority in his life, and that was providing for his family.  That ethic was learned as a young peasant boy in Italy from his tight knit family.  At the age of 11, his father, two sisters and brother emigrated to the United States.  For two years, young Pat continued living in Italy with his mother, sister and brother until his father was able to save enough money and navigate the legal challenges in order to send for them.  Once he emigrated to the United States, he reunited with the rest of his family who had settled in South Philadelphia.  Over the next decade he learned English, graduated high school, served in the United States Army, went to trade school to become a television repairman and met his future wife, Dianne.  Once married, Pat and Dianne had three children and after a few years, they settled in Bucks County.
Pat made sure that his children had 'everything they needed, not everything they wanted'. He lived by his motto by providing a wonderful life for his children. Pat's family spent many weekends at the home he had built in the Poconos, usually entertaining family and friends.  Vacations each year were not only for leisure but for educational purposes.  Pat was a man of experience and wisdom and was always available to share that knowledge with anyone who asked.
'I want to see my children do better than I did' was another priority for Pat.  He put his children through college and saw them all get married.  With his goals met, he finally became Nonno to 7 grandchildren in the span of 3 years.  After the passing of Dianne, age, disease and pain slowed Pat down but did not stop him from accomplishing his new priority, spoiling his grandchildren with pastries, cookies and fruit……and even candy, before dinner.
Husband of the late Dianne (Mollo) Pupo, and brother of the late Rosina Miriello, Edda Portaro & Anthony Pupo, he is survived by his children, Jeffrey (Angela) Pupo, Melissa (Vince) Troiani, & Adrienne (Jody) Fine, his seven grandchildren, Priscilla, Giuliana, Domenic, Alexandra, Giuseppe, Anthony & Alyssa, along with his sister, Giuseppina LoManto, and brother, Ralph Pupo.  Pat will also be dearly missed by his very large extended family.
Family and friends may call Monday, October 16, 2023 from 7:00 to 9:00 p.m. at the J. Allen Hooper Funeral Chapel, 41 W. Trenton Ave., Morrisville, PA 19067 and also Tuesday, Oct. 17, 2023 from 10:30 to 11:30 a.m. at Saint John the Evangelist Church, 758 Big Oak Road, Yardley, PA 19067 followed by a Mass of Christian Burial at 11:30 a.m.  Interment with Military Honors will be held at Washington Crossing National Cemetery at 1:30 p.m. A livestream of the Mass will be provided by Saint John the Evangelist.