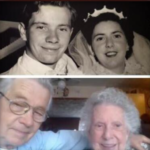 Mary Alice (Wyers) Loncosky, 87, passed away on Monday June 19, 2023, at her home.  She was born on November 21, 1935 in Hoboken, NJ to Paul William and Mary Catherine (Kelly) Wyers.
Mary Alice attended Holy Angels School and St. Mary's Cathedral High School.  While in high school, she worked at Circle F Manufacturing in Trenton, NJ.
On June 18th, 1955, Mary married the love of her life, Joseph J Loncosky, Jr. at Holy Angels in Trenton NJ.  They just recently celebrated their 68th wedding anniversary on June 18th, 2023 with their family.
They resided in Trenton NJ until 1956 when they moved to Bristol PA.  In 1959, they then moved to Morrisville PA where they raised their family.  Mary was a stay at home mom to seven children.  They belonged to Holy Trinity Catholic Church in Morrisville PA until transferring to St John the Evangelist Catholic Church in Yardley PA, where they have been parishioners for the past 58 years.  Their family is one of the original members of St. John's parish.    Mary was a member of the ladies of St. John the Evangelist.  She was an avid bowler with the ladies of St John's bowling team for almost 30 years.  Over a span of 15 years, Mary was a very active volunteer in the Church and the school.  She also worked in the school cafeteria. She was also an avid fisherwoman and hunter Mary spent several years babysitting and caring for other children within the community so that their parents could work.  Almost 22 years ago, Mary and her daughters formed a BUNKO group and they played every Sunday evening.
Mary was predeceased by her parents, Mary Catherine and Paul William Wyers, her brothers Paul Dwyer, Billy Dwyer and Robert Wyers; and her sister, Maude Joan (Wyers) Iavarone.
Mary is survived by her husband of 68 years, Joseph John Loncosky, Jr.  In addition to her husband, she is survived by their seven children – Mary (Jim) Love, Kathleen (John) Kozlowski, Johanna (Ron) Kraemer, Joseph John (Susan) Loncosky III, Sharon Jeschonek, Paula (Bob) White, and Jeffrey (Tamara Minor) Loncosky.  Together, their seven children blessed them with a total of 23 grandchildren.  Their grandchildren, in turn, presented them with 26 great-grandchildren.  Mary was blessed with learning that she has a great-great grandchild who will be entering their lives shortly after her birthday.  Mary is survived by her brother-in-law, Chet Loncosky.  She is also survived by her cousins Patricia and Joseph Kelly, and several nieces and nephews.
Mary's family would like to thank Nurse Pam and her amazing team who have been there to help them through their journey.  Pam, Mom was truly happy and blessed to have met you.  You brought a smile to her face every time you walked in to the house.  Your team was amazing!  We couldn't have done this without you, thank you.  Mary's family would also like to thank the members of Statesman Rehab, Jefferson Bucks, Bayada Home Health Care, St Mary's Rehab, SMMC, Buckingham Rehab, Pennsbury Medical Practice, and all of her medical teams who have worked so hard in Mom's treatment and recovery over the past few years.  Thank you.
Relatives and friends will be received at the St. John the Evangelist Catholic Church, 752 Big Oak Road, Morrisville, PA 19067 on Friday, June 23, 2023 from 9:30 AM – 10:30 AM.  Her Mass of Christian Burial will be celebrated at 10:30 A.M. with interment to follow in St. Mary's Cemetery, Trenton, NJ.