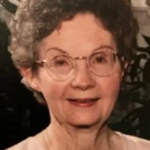 Regina Wilczynski passed away Friday, November 25, 2022 just shy of her 98th birthday at Heartis Senior Living in Yardley.
Born in the Bridesburg section of Philadelphia, Regina graduated from High School and went to work at the Philco Electronics Company as a bookkeeper. It was there that a secret admirer left flowers on her desk every day until he finally introduced himself. She and Tony, the love of her life, were married shortly thereafter. They had 3 children and lived happily together until his untimely passing at age 48.
Regina lived most of her life in Philadelphia, but developed a taste for travel when Tony joined the early Space Program working on the Ranger Series spacecraft. They moved from Philadelphia to Florida and back again, to Seattle and back again, and again to Florida and finally home to stay. She was particularly proud of orchestrating the cross-country family moves on her own, driving back and forth across the country with the children and stopping to explore.
Regina felt very fortunate to marry again, to much-loved Alex, whom she had already known for many years. She and Alex were loving parents and grandparents to Regina's family. They traveled the country by car, visiting all 49 continental states, stopping in small towns and visiting county fairs, meeting and befriending the locals at every stop. Regina found beauty in every place and every person she met.
A devout Catholic, Regina went above and beyond to help family, friends, and strangers, especially those in need. She was active in Women Organized Against Rape, supporting victims of assault and accompanying them to court. She cared for elderly family and friends for many years.
She was predeceased by her husbands, Tony and Alex, and her beloved daughter Marianne Ruthrauff. She is survived by her sons Thomas (Chris) Wilczynski of Maine and Robert (Barbara Shonberg) Wilczynski of Yardley, and by her two beloved sisters, Clara Bielec and Vicki Carter. She had five grandchildren (Laurie Tate, Julia von Ranson, Sarah Wilczynski, Alisa Wilczynski, and Alex Ruthrauff), 4 great grandchildren, and many nieces and nephews, of whom she was very proud. She is also survived by John Corra, a dear and enduring friend of Regina and Alex.
Always thinking of others, Regina has donated her body to science. Upon return of her ashes, a funeral mass will be held at St. John the Evangelist in Yardley, followed by burial at Resurrection Cemetery, where she will be laid to rest with Tony and Alex. Donations in Regina's memory may be made to Mary's Cupboard (100 Levittown Parkway, Levittown, PA 19054), The Juvenile Diabetes Research Foundation (JDRF, 200 Vesey Street, 28th floor, New York, NY 10281), or the March of Dimes Donation Processing Center (3495 Piedmont Road NE, Bldg 12, Suite 210, Atlanta, GA 30305.