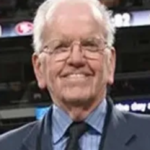 Arthur I. "Art" McNally, known fondly for revolutionizing sports officiating, passed away peacefully in the presence of his loving wife on Sunday, January 1, 2023. He was the beloved husband of 36 years to Sharon A. McNally. Art was 97.
Born in Philadelphia, Art attended Roman Catholic High School before serving in the United States Marines during World War II. Art was a graduate of Temple University as well as a teacher and coach in the Philadelphia Public School District until his appointment as the NFL's Supervisor of Officials in 1968. Revered as the "Father of Modern-Day Officiating", Art officiated over 3,000 football, baseball, and basketball games during a period of 22 years. He also worked one year in the NBA and served as a Field Judge and Referee in the National Football League for nine years. Art served as the alternate official in Super Bowl I.
In a career with the NFL that spanned over five decades, Art's contributions to the game of football revolutionized officiating and influenced the way the game is played today. Art installed the first formal training program for officials in professional sports and eventually headed a department of five men who coordinated and directed a staff of 112 game officials. Art also oversaw the first implementation of instant replay as a way to review and verify calls in real-time. In 2002 Commissioner Paul Tagliabue created the Art McNally Award to annually honor an NFL game official who exhibits exemplary professionalism, leadership, and a commitment to sportsmanship on and off the field.
Art's career has been commemorated in Hall of Fames across the country including the Pennsylvania Sports Hall of Fame (Class of 1987), the Pro Football Hall of Fame in Canton, Ohio (Class of 2022), and The Philadelphia Sports Hall of Fame (Class of 2022). Art was also the proud recipient of the first National Association of Sports Officials "Gold Whistle" Award (1988), the Reds Bagnell Award (2004), and the Daniel E. Reeves Pioneer Award (2012) amongst many others.
In his personal life Art loved to spend time on his boat, practice his faith, share stories of his life, and be with his family. Family, friends, and colleagues alike describe Art as the pinnacle of hard work, humility, and integrity.
Art is the loving father to Michael McNally, Thomas McNally (Lisa), and Marybeth Fairchild (Douglas). Grandfather of Shannon (Thomas), Connor, Erin, Alayna, Michael, Maryelizabeth, Mollie, and Madeline, great grandfather of Brexley.
Art will also be sadly missed by his son-in-law Brian O'Hara.
Art is preceded in death by his first wife, Rita K. McNally, his daughter Rita M. O'Hara, his parents James and Madge (Boyle) McNally and his siblings James McNally Jr., John Peter McNally, Joseph Patrick McNally, Marjorie Roddy.
Friends and Family may call on Monday, January 9, from 9:00-10:30am at St. John the Evangelist Catholic Church, 752 Big Oak Road, Morrisville, PA where his funeral mass will be celebrated at 11:00 am with interment to follow. Arrangements are under the care of the FitzGerald-Sommer Funeral Home 17 S. Delaware Ave. Yardley, PA 19067.
Memorial contributions to the above church are appreciated.