Lewis Ballinger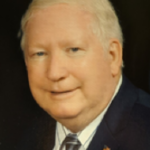 Lewis R. Ballinger, age 84 of Yardley, PA, passed away peacefully on Saturday, August 6, 2022 at his home in Yardley, surrounded by his loving family.
Born in Eddington, PA, he was raised in Bensalem Twp. and lived in Yardley for over 40 years.
Prior to his retirement, Mr. Ballinger was employed with 3M Corporation in Bristol for over 30 years, as an electrician and a designer trainer.  Lewis was also a proud Veteran of the U.S. Air Force and a long time member of the Knights of Columbus.  He was a true handyman who could fix or build anything.  His passions included building and repairing computers, playing the guitar and keyboard, and spending summers with his family on Long Beach Island.  His pride and joy was his red 1969 Buick Skylark.
Husband of the late Patricia Ann (Dusch) Ballinger, he is predeceased by his brothers Bob Ballinger, Bill Moan, and Stanley Moan.  He is survived by his daughter Nancy R. Ballinger of Yardley, four sons and daughters-in-law Andrew and Aubrey Ballinger of Yardley, Ray and Kathie Ballinger of Bethlehem, PA, Ron and Jo Ballinger of Jacksonville, FL and Rick Ballinger and Michelle Macdonald of Trevose, PA, a sister Nancy Gross, four grandchildren including Ellie and Jed Ballinger and several nieces and nephews.
Always quick with a good joke, he was a loving family man who will be remembered for his kindness and compassion.
Relatives and friends are invited to celebrate his Funeral Mass on Friday, August 12, 2022 at 10:30 AM at St. John the Evangelist Roman Catholic Church, 752 Big Oak Rd., Morrisville, PA  19067.  His interment will follow in Our Lady of Grace Cemetery, Langhorne, PA.
Friends may call Thursday evening from 7-9 PM at the J. Allen Hooper Funeral Chapel, 41 W. Trenton Ave, Morrisville, PA  19067 and on Friday morning from 9:30 – 10:30 AM at the church.
To send flowers to the family or plant a tree in memory of Lewis R. Ballinger please visit our 
Tribute Store
.