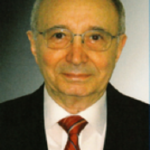 Anthony L. Scarano, age 94 of Yardley, PA, passed away peacefully on Tuesday, February 15, 2022 at his home.  Born in Trenton, NJ, Anthony has lived in Yardley since 1965.
Prior to his retirement, he was self employed as a plastic piping consultant for many years in the United States and Canada.    He received his Master Plumber License from Rider University and was a member of the International Association of Plumbing and Mechanical Officials, from whom he received a Lifetime Achievement Award.  Anthony was the recipient of the 2011 Award of Merit from the Plastics Industry, recognizing his achievements and advancements of CSA standards throughout the world.
Son of the late Nicholas and Clementine (Ferro) Scarano, he is survived by his loving wife of 52 years Barbara (Habersaat) Scarano, and several nieces and nephews, including Richard Myers of Brick, NJ, Denyse Russell of Oceanside, CA,  Rand Russell of Happy Valley, OR,  Fred Habersatt of Wycoff, NY, Barbara Lebron,  Nagatuck, RI,  Chuck Bodemann of Westford, MA,  Donald Habersaat of St. John Island, SC,  Michael Habersaat of New Milford, NJ,  Charles Boyle of Morrisville, PA,  Mary Ann Hughes of Robbinsville, NJ,  Gloria Teti of Washington Crossing, PA,  Robert Habersaat of Ashfield, MA  and Thomas Habersaat, Upstate NY.
Relatives and friends are invited to celebrate his Funeral Mass at 11 AM on Tuesday, February, 22, 2022 at St. John the Evangelist Roman Catholic Church, 752 Big Oak Rd., Yardley, PA  19067.  His interment will follow in St. Mary Cemetery, Trenton, NJ.
Friends may call on Tuesday from 10-11 AM at the church.
In lieu of flowers, memorial contributions, in Anthony's name, may be made to the Carmelite Nuns Monastery, 26 Harmony School Road, Flemington, NJ  08822.
Arrangements have been entrusted to the care of the  J. Allen Hooper Funeral Chapel, Morrisville, PA.
To send flowers to the family or plant a tree in memory of Anthony L. Scarano please visit our 
Tribute Store
.