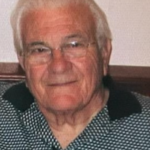 George C. Rosso, age 87 of Fallsington, PA, passed away peacefully on Monday, January 3, 2022, at St. Mary Medical Center, Langhorne, PA.
He was born and raised in Morrisville and was a graduate of Morrisville High School.  George and his wife Carole moved to Ventnor, NJ before returning to live in Fallsington.
A proud Navy Veteran, George enjoyed the Jersey Shore, cycling, hunting, and playing Texas Hold 'Em.  Although he enjoyed the outdoor activities, he was equally as happy sitting on his front porch.
Son of the late Dominic and Mary T. Rosso, he is survived by his loving wife of 62 years Margarette "Carole" (Mullins) Rosso; four sons and two daughters-in-law George A. Rosso, Michael J. and Jacqueline Rosso, Marc A. Rosso and Anthony J. and Karen Rosso; a brother and sister-in-law Nicholas and Anna Mae Rosso, 13 grandchildren, 2 great grandchildren and several nieces and nephews.
Friends may call Tuesday morning from 8 – 10 AM at the J. Allen Hooper Funeral Chapel, 41 W. Trenton Ave., Morrisville, PA. For the safety of the family and our community, facemasks are required.
Relatives and friends are invited to celebrate his Funeral Mass at 10:30 AM on Tuesday, January 11, 2022, at St. John the Evangelist Roman Catholic Church, 752 Big Oak Rd., Morrisville, PA  19067.
His interment will follow in Morrisville Cemetery.