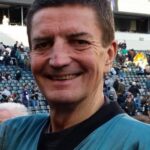 John Michael Zaren, age 66 of Yardley, PA, passed away peacefully on Monday, November 1, 2021, at Chandler Hall Hospice in Newtown, PA. Born in Philadelphia, PA, John grew up in the Somerton section of the city, but he lived in Yardley in Bucks County for the past 22 years.
John was a graduate of Archbishop Ryan High School in Philadelphia, Class of 1972. After working as a welder for several years, John went to the Restaurant School in Philadelphia, where he found his passion. He worked as an Executive Chef for several golf courses, restaurants, and catering establishments during his career.
Besides his love of cooking, John enjoyed baking, gardening, reading, and fixing things. He liked being outdoors, playing golf, shooting darts, and challenging you to a game of ping pong or badminton. John was very creative and talented at drawing and crafts. He loved feeding the birds and making bird houses. An avid Philadelphia sports fan, John rooted for the Eagles, Phillies, Sixers, and Flyers.
Son of the late John M. and Mary E. (Jankiewicz) Zaren and brother of the late Marianne Zaren, who pre-deceased him by only 12 days, and Diane Zaren Brine, John is survived by his loving wife Anne Marie C. (Foley) Zaren; his son and "daughter-in-law" John Michael Zaren, Jr. and Katy Williams of Miami, FL; two sisters Tina Zaren of Warminster and Nancy (Rick) Lesniak of Charleston, SC; four brothers-in-law Donald Kohri of Havertown, Donald Brine of Bensalem, Bill (Lisa) Foley of Blain, PA, and Joseph (Brenda Mendte) Foley of Philadelphia; his nieces Meghan (Patrick) Wynn, Amy Lesniak Morgan, Natalie Watt, and Alexandra Foley; his nephews Brian Lesniak and the late Matthew Foley; his step-nieces Stacia (Justin) Grugeon, Alicia (Zach) Howell, and Angela Perilli; and his step-nephew, Jonathan Mendte, as well as several grandnieces and grandnephews.
Relatives and friends are invited to celebrate John's Funeral Mass at 11:00 AM on Tuesday, November 9, 2021, at St. John the Evangelist Roman Catholic Church, 752 Big Oak Road, Morrisville, PA 19067. His interment will follow at Our Lady of Grace Cemetery in Langhorne.
Friends may call Tuesday from 9:30 AM to 11:00 AM at the church.
A funeral luncheon will be held at the Buck Hotel in Feasterville following the burial. Please let the family know if you plan to attend.
Arrangements have been entrusted to the care of the J. Allen Hooper Funeral Chapel, Morrisville, PA.
To send flowers to the family or plant a tree in memory of John Michael Zaren, please visit our floral store.