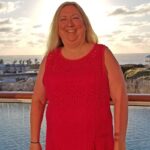 Margaret Mary Bracken, age 55, of Langhorne, PA passed away Sunday, August 8, 2021 at her residence surrounded by her loving family and friends.
Margaret received her B.S. in Accounting and Marketing from Temple University and her M.B.A. from LaSalle University. Margaret lit up the room with her smile and her contagious laugh. She loved spending days at the beach and visiting her most treasured place, Hawaii, as it reminded her of having lived there as a child. Margaret found happiness in helping people and putting everyone before herself. Her family and friends described her as a lighthouse. She was a beacon of light in a world of darkness. She led people towards finding the right path with her loving guidance and direction. Like a lighthouse, she was a stalwart. People looked up to Margaret as a role model and source of inspiration. Many people ask "what would life in heaven be like?" Those close to her, however, would not, knowing they were already in the presence of a living angel.
Margaret will be greatly missed by her beloved life partner of 34 years, James Bracken, Sr. She is survived by her two loving children, James Jr., and Katherine. She was the devoted daughter of the late William and Theresa Riordan, and step-daughter to Patricia Riordan. She was predeceased by her brother William Riordan and is survived by step siblings, Lee and Kelly Wolfe. Relatives and friends are invited to attend her visitation on Saturday, August 14, 2021 from 9:30-11:00am, followed by her Funeral Mass at 11:00am at St. John the Evangelist Church, 752 Big Oak Road, Morrisville, PA 19067. (Livestream available at www.stjohnpa.org). A memorial service will follow at All Saints Cemetery, Newtown.
Life Celebration entrusted to Swartz-Givnish Funeral Home of Newtown.