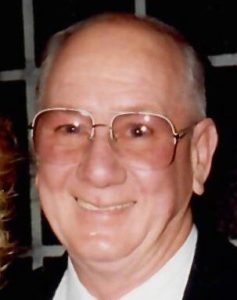 George Herbert of Morrisville, PA passed away peacefully on Saturday, June 29, 2019 at home with his family by his side after a brief illness. George grew up in Germantown where he met and married Jane Kelly. After returning from serving in the Korean War, George and Jane were original Levittown homeowners before moving to Morrisville in 1969. George worked as a crane operator at U.S. Steel and continued to work after retirement at Faulkner Buick GMC for 15 years. He was communicant of St. John the Evangelist Church where he was an usher for many years. He was a member of the Knights of Columbus and the local chapters of the VFW and the American Legion.
George is survived by his wife of 68 years, Jane E. (nee Kelly), and their five children, G. Rob, Stephen (Debbie), Mark (Carrie Jo), Jane Dost (Dan), Amy Ahern (Michael), seven grandchildren, Eric Dost, Kelly Thomas, Meghan Westbrook, Kyle Herbert, Amanda Herbert, Sean Herbert, and Katie Milner, and five great-grandchildren.
George was a hard worker who loved his family. His kindness was abundant. He was always welcoming to everyone with a smile and something to eat. George was passionate about his grandchildren's sporting activities – never missing a game. George loved to spend time at the beach with his family. He will be greatly missed.
His funeral Mass will be celebrated at 10:30 am on Saturday, July 6th at St. John the Evangelist Church, 752 Big Oak Road, Morrisville, PA, where friends may call from 9:00 am. Burial will be on Monday, July 8th at 2:30 pm at the Washington Crossing National Cemetery, 830 Highland Road, Newtown, PA.
In lieu of flowers, memorial contributions may be made in George's name to Wreaths Across America, https://wreathsacrossamerica.org.