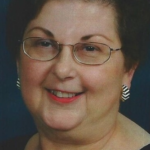 Nancy Jean Baradziej, of Morrisville, PA, passed peacefully into the Lord's arms, on May 22, 2023.  She was 77 years old.
Born in Philadelphia on December 23, 1945, she was the daughter to the late Charles and Lena (Chipparoni) Perry.  Nancy was adopted at a young age and an only child.  She would meet the love of her life, Thomas Baradziej, then serving in the United States Air Force, and they never left each other's side.  Eventually they married and their family began to expand with the birth of three sons, the loves of their lives.  Nancy was devoted to her family; it was her first priority ensuring everyone was cared for, the home kept and filled with love and homecooked meals serving as the focal point to bringing all together at the end of their busy days.  She stepped in as her boys' den mother for a number of years all while returning to the work force as an administrative assistant for various insurance companies through the years, until retirement.
As her children grew older and began families of their own, Nancy and Tom found more time to create memories on their own.  They loved to go on day trips, especially to Atlantic City for shows, a little light gambling, and overnight getaways.  In her quiet moments, she could always be found with a book in her hands…an avid reader, she found solace in novels.  Nancy took up a love for cooking and could be found in the kitchen trying her hand at new cuisines and hosting dinners with those she loved.  Holidays were especially a blessed time for her.  Christmas may have been her favorite, not only as her birthday fell just days before, but those around her showered her with cherished miniature Santa collectibles which she proudly displayed.  She will forever be remembered as a devoted wife, loving mother, and doting grandmother…and friend to so many.
Nancy was preceded in death by her husband, Thomas in 2013.  She is survived by her three beloved sons – Anthony (and his wife, Jody), Michael, and Greg; and her 4 cherished grandchildren – Lindsay, Wesley, Nathan, and Philip.
Family are friends are invited to Nancy's Life Celebration on Tuesday, June 6, 2023, from 9:45-10:30am at St. John Evangelist Catholic Church, 752 Big Oak Road, Morrisville, PA  19063.  Her Funeral Mass will follow at 10:30am.
Interment at Washington Crossing National Cemetery, Newtown.