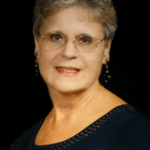 Patricia Ann Ballinger
Selfless…the first word that comes to mind when thinking of our mom, Patricia A. Ballinger, who passed away peacefully at home on Saturday September 11, 2021 surrounded by her loving family.  Her devotion to her family was unwavering, even during her two and a half year battle with pancreatic cancer.  Always putting others before herself until her last breath.
Born to the late Herman and Annetta Dusch on July 17, 1942, she was a life long resident of Lower Makefield Township, PA.  She was predeceased by her sisters Annetta Otero and Ruth Jayne, along with twin brother Herman Dusch Jr.
She was a graduate of Mount St. Joseph Academy and earned her B.A. degree in Chemistry from Chestnut Hill College.  She initially wanted to be a doctor;  however, shortly after graduating she changed direction and became a substitute teacher for the Trenton School District.  That is when she found her true passion, teaching.  She taught for 30 years, most notably at Joyce Kilmer school in Trenton, NJ, teaching 6th grade in the gifted and talented program.  She earned several honors there, including Teacher of the Year awards.
Patricia was a long-time supporter of Purple Heart, donating clothes multiple times a year.  She was a parishioner of St. John the Evangelist Roman Catholic Church in Yardley, PA at which she contributed to making meals for Meals on Wheels for many years.
She is survived by her husband Lewis R. Ballinger, a daughter Nancy R. Ballinger of Yardley, a son and daughter-in-law Andrew and Aubrey Ballinger of Yardley, and a granddaughter Ellie Ballinger.  Her love for her family was extraordinary and inspirational.  This was especially shown in her resoluteness to procuring the best life possible for her special needs child, Nancy.
Always the person to go to whenever help or advice was needed, she was strong-willed and steadfast while being kind, gentle, and loving.  A true one of a kind person who will be missed beyond measure.
Relatives and friends are invited to celebrate her Funeral Mass at 10:30 AM on Friday, September 17, 2021 at St. John the Evangelist Church, Big Oak and Makefield Rds., Yardley, PA.  Her interment will follow in Our Lady of Grace Cemetery, Langhorne, PA.
Friends may gather beginning at 9:30 AM until time of Mass at the church.
In lieu of flowers, memorial contributions, in Mrs. Ballinger's name, may be made to the Pancreatic Cancer Action Network (www.pancan.org).
Arrangements have been entrusted to the care of the J. Allen Hooper Funeral Chapel, Morrisville, PA (www.hooperfuneralchapel.com).
To send flowers to the family or plant a tree in memory of Patricia Ann (Dusch) Ballinger, please visit our floral store.