Dr. John Irwin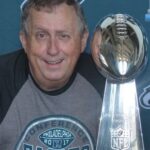 John Thomas Irwin, M.D. of Yardley, PA passed away suddenly on Sunday, October 2, 2022. Born in Montclair, NJ, he grew up in Caldwell, NJ. Dr. Irwin lived in Yardley for the past 38 years where he married and raised four children who were the focus of his life and were inspired to follow in his medical footsteps.
He graduated from Fairfield University and then studied medicine at the University of Medicine and Dentistry of New Jersey. He completed a residency in orthopedic surgery at the Hospital of the University of Pennsylvania and joined the surgical staff at St. Mary Medical Center. Dr. Irwin had an orthopedic practice in Yardley and was known by his patients to be professional, articulate, compassionate, and willing to adjust his schedule to meet their needs. He was a Fellow in the American Academy of Orthopedic Surgeons. An avid reader, he also enjoyed astronomy, bird watching, skiing and scuba diving. Dr. Irwin was an Eagles fan and a history buff.
Son of the late Dr. Francis Irwin and Eva (Rogers) Irwin, he is survived by his loving wife Camille (di Silvestro) Irwin and children, Dr. John Daniel Irwin of Phoenixville, James Francis Irwin of Abingdon, MD, Dr. David Lewis Irwin (Dr. Jean Bujdos) of Slatington, PA, and Camille Elizabeth Irwin of Yardley. He is also survived and missed by a sister, Patricia Irwin (Dwight Smith) of State College and his beloved Dachshunds, Chase and Cole. He was always grateful for the support, loyalty, and competence of his office staff, including Denise Sullivan, Anita di Silvestro and Lynda Bowes. He also loved his "second family" who were his colleagues in the OR, who shared so much love and support for him throughout his career, and also his dear friend Kenneth Ritchie.
Relatives and friends are invited to celebrate his Funeral Mass at 11 a.m. on Tuesday, Oct. 11, 2022, at St. John the Evangelist Roman Catholic Church, 752 Big Oak Rd., Morrisville, PA 19067, followed by his interment in Newtown Cemetery. Interment will be private for family.
Friends may call Monday evening from 7-9 p.m. at the Church, as well as Tuesday morning from 9-11 a.m. at the Church.
In lieu of flowers, the family requests contributions in Dr. Irwin's name are made to the nonprofit Neighbor in Need, c/o Elizabeth Kearney, 1546 Makefield Road, Yardley, PA 19067.
To send flowers
to the family or plant a tree
in memory of John Thomas Irwin MD, please visit our floral store.