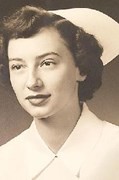 Dolores C. Harrison, of Doylestown, formerly of Lower Makefield, died Monday, Oct. 21, 2019, at home.
Born Jan. 2, 1933, in Jerome, Somerset County, Pa., Dolores was the daughter of Frank Negast and Gensina (Venzon) Negast.
Preceded in death by parents, husband George D. Harrison, brother Frank A. Negast, and other dear relatives.
Survived by daughters Natalie Frost (Chip Baggett) and Diane Fazio (Jay); sons Jeff (Janet Walenta), David (Christina), and Michael (Melissa); grandchildren Matthew Frost (Sarah), Tricia Fazio, Emily Fazio, Frank Fazio, Bella Fazio, Daniel Harrison (Allie), Adam Harrison, Sofia Harrison, and Genevieve Harrison; great-grandchildren Benjamin Harrison and Ella Harrison; brother-in-law Richard Gombita; nieces Regina Schilling (Don) and Kristine Wilson (Gillian); nephews William Gombita (Sally) and Mark Negast (Kathy); and many other dear relatives, friends, and caregivers.
Graduated from Conemaugh Township High School and Conemaugh Valley Memorial Hospital School of Nursing.
Dolores worked as a registered nurse and raised five children. Later, she worked at Bucks County Nut Co. in Yardley and as a school crossing guard in Lower Makefield. Enjoyed bowling, playing bridge, and mahjong with friends, and volunteering at church and in her community.
Dolores loved spending time with her family, especially on holidays and during annual beach weeks. Friends and family will remember Dolores for her cooking such as her legendary lasagna, meatballs, and spaghetti sauce.
In her later years, Dolores enjoyed visiting with friends at the Central Bucks Senior Center. The viewing is from 6 p.m. until 8 p.m. on Tuesday, Oct. 29, at the FitzGerald-Sommer Funeral Home, 17 S. Delaware Ave., Yardley.
The funeral mass will take place at 9:30 a.m. on Wednesday, Oct. 30th, at St. John The Evangelist Roman Catholic Church, 752 Big Oak Road, Morrisville, with interment following at 11 a.m. at Washington Crossing National Cemetery, 830 Highland Rd., Newtown. In lieu of flowers, donations in memory of Dolores may be sent to the charity of your choice.