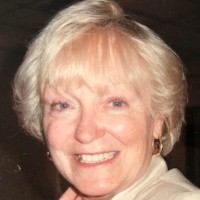 Josephine "Joan" Derago (née McCaffrey) of Yardley, PA entered into eternal joy and never ending splendor on August 6, 2019.
Born in Philadelphia, Mrs. Derago resided in Yardley since 1987. She worked at several law firms in Philadelphia and became a Realtor in New Cumberland, PA. She retired from her last paralegal position at the Law Office of Silverman and Abramson in Abington, PA.
In her younger years she was an avid runner and enjoyed playing Bridge. She was a parishioner of St. John the Evangelist Parish in Yardley and enjoyed her time with the Yardley Seniors participating in bowling, mahjong and book club.
Joan, now reunited with the love of her life, the late Thomas J. Derago Sr., is the loving mother of Thomas Derago Jr., Joanne Campbell and Eileen Immordino (Vincent) and grandmother of Chelsea Weber (Brian), Charlotte Currier (Jon), Nicholas Campbell, Justin and Olivia Immordino and the great grandmother of Zachary Manuel and Sarah Elizabeth Weber and Linus Menlo Currier.
She is the sister of James (Arlene), Joseph (Eileen), Thomas (Janice), Robert (Rena) McCaffrey and the late Helen Snock, Catherine and James Dougherty, John McCaffrey and Aunt to many nieces and nephews.
Family and friends are invited to call on Saturday, August 10, 2019, from 9:00 until 10:00 a.m. at Saint John the Evangelist Church, 752 Big Oak Road, Morrisville, where her funeral Mass will be celebrated at 10:00 a.m. Rite of Committal will follow at Our Lady of Grace Cemetery, Langhorne.
The family would like to thank Yardley Seniors Helping Seniors, St. Mary's Stroke Unit, St. Mary's Home Care Team and Chandler Hall Hospice Pavilion staff.